University of Texas Rio Grande Valley Performing Arts Center — Edinburg, TX
Western Red Cedar with Clear Finish
SKU(s):2116-2, 19-1112-8
---
The University of Texas-Rio Grande Valley's new Performing Arts Center was designed for their nationally-recognized programs in Mariachi, Baile Folklorico, band, orchestra, and chorus. Over 8,000SF of 9Wood grilles were specified throughout the faceted balconies and walls, and play a key role in meeting the specific acoustic requirements. And 6,000SF of Western Red Cedar Linears join in on the visual performance by greeting guests with a colorful welcome in the exterior soffit areas.
The centerpiece—the theatre—seats over 1,000. Solid White Oak was specified for the lower-elevation seating façades, while stained solid FSC Pacific Albus, a lightweight, economical hardwood, was specified for the upper areas. Page Southerland Page architect Josh Coleman commented that the grilles helped meet the space's goals of "establishing proper base building geometry for acoustic reflections, creating acoustic dispersion on the walls within the audience chamber, providing acoustic transparency in the upper reaches to allow for acoustic tuning, and heightening the psychological perception of the acoustics through the selective use of wood."
For the acoustical subcontractor, Marek Bros., this was a new installation experience. "It was our first job with this type of product…but the project actually went really smoothly. The product was easy to work with. 9Wood did a great job with the shop drawings and support. They were very helpful." Marek cut nominally-sized panels to net length to fit the BIM and GPS data-confirmed geometric facades.
The front door of the building features 9Wood Western Red Cedar Panelized Linears. The variegation of the species naturally ties in with the confetti-color theme of the building, and echoes the brick throughout campus. Coleman says, "We feel this project separates itself from other designs by the way wood and other materials helped to create unique and innovative solutions for multiple design issues – including architectural, acoustic, and theatrical."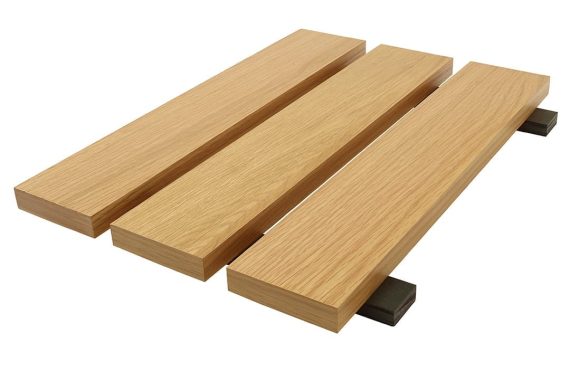 Stunning results, seismic compliance and straightforward installation.
Featured Article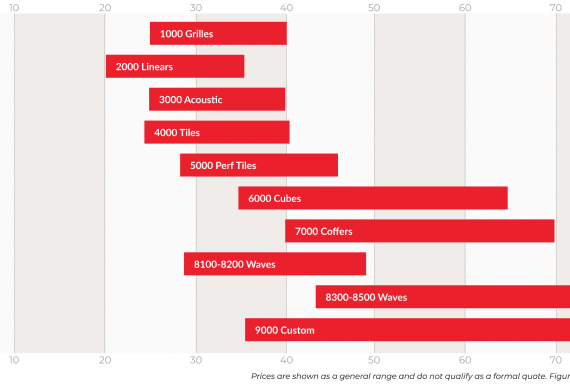 "How much does a custom wood ceiling cost?" is one of the first questions architects and contractors want to know when they reach out to 9Wood. Although this is a difficult question to answer in an article, we will do our best to discuss the factors that affect custom wood ceiling pricing.
Featured Video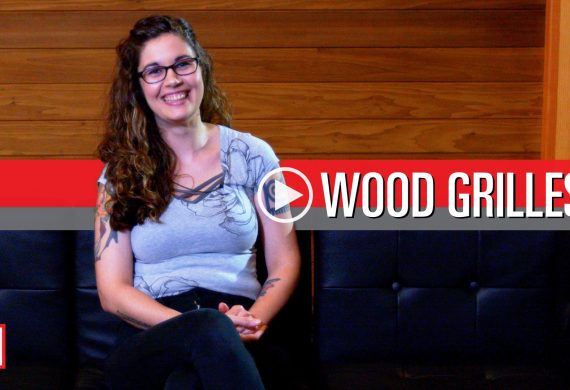 Michael Roemen: "Today Kat and I are going to talk about wood grilles. We're going to talk about the most common questions that we…
Project Details
BUILDING TYPE
Education
ARCHITECT
Page Southerland Page, Houston, Texas
CONTRACTOR
Marek Brothers Systems, Inc., Harlingen, Texas
SCOPE
16,275
COMPLETION DATE
September 2015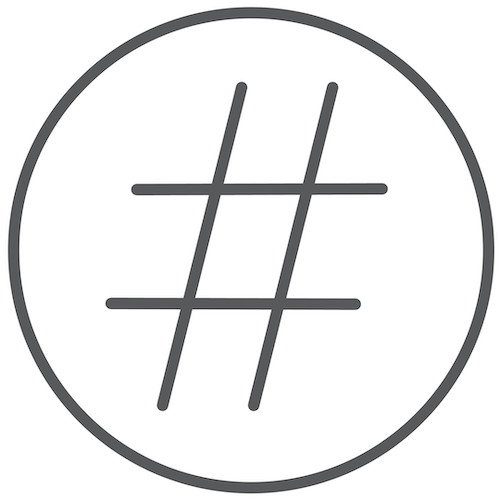 9WOOD PROJECT
5276
Case Study
Performance, South Texas Style
Aesthetic treatment was critical for the faceted balconies and walls. The project featured over 5,000 SF of varied spacing grilles and 6,000 SF of Western Red Cedar Linears.
Download Case Study
Similar Projects
Similar Buildings