9Wood depends on forests, as do a stunning 42% of our fellow earth-dwellers.  Wood is a remarkable, versatile material. And it is beautiful – a quality of wood that never bores us.
Certified wood connects the building's wood products back to healthy forests.
It is only fitting, therefore, that we are committed to well-managed forestry and to holistic design and construction that support our forests. As a result of that commitment, 9Wood has earned Chain-of-Custody certification from both FSC® and PEFC certifying organizations.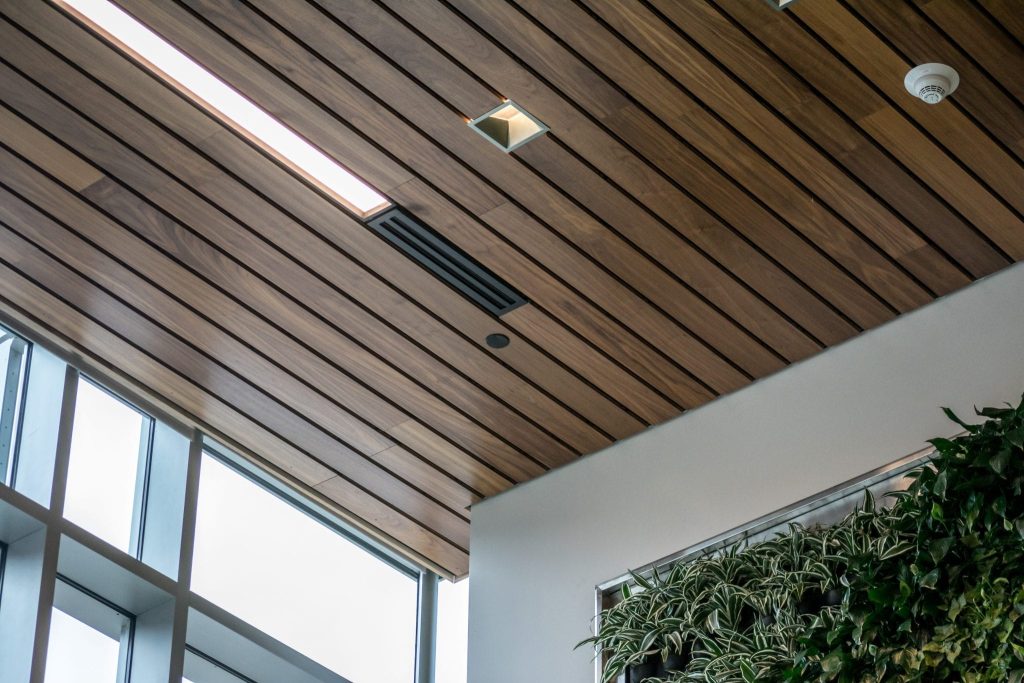 Certified Wood Chain of Custody
Certified wood connects the building's wood products back to healthy forests.
Certification means that an independent, third party organization has verified the lumber supplied by a specialty manufacturer like 9Wood truly comes from well-managed forests.
Certification organizations use transparent, globally accepted forestry standards.
We inventory PEFC certified Canadian Hemlock expressly for the Fast>Track guaranteed on-time shipment program.
Forest Stewardship Council
The Forest Stewardship Council (FSC) is an international non-profit, multi-stakeholder organization. It was established in 1993 to promote responsible management of the world's forests.
FSC does this by setting standards on forest products, along with certifying and labeling them as Eco-friendly
FSC's mission is to:
 "Promote environmentally appropriate, socially beneficial and economically viable management of the world's forests."
Because it deliberately works outside of government regulations, FSC uses the market to drive sustainable forest management.
FSC has no political authority. No one can be fined or imprisoned for failing to comply with its regulations.
The authority of the FSC is determined by its credibility with external audiences, such as USGBC LEED (Leadership in Energy and Environmental Design).
Programme for the Endorsement of Forest Certification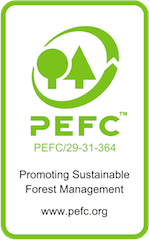 The Programme for the Endorsement of Certified Forests (PEFC), like FSC, is an international non-profit, non-governmental organization dedicated to promoting Sustainable Forest Management (SFM) through independent third-party certification.
Its globally established standards seek to transform the way forests are managed globally—and locally—to ensure that environmental, social and economic benefits offered by forests are most widely enjoyed.
 PEFC differs from FSC in that it is an umbrella organization.  This means it endorses national (local) forest certification systems. These national certification systems are developed through multi-stakeholder processes and tailored to local priorities and conditions.
Our Canadian softwood supplies are sourced through PEFC through the Canadian Standards Association Group. It is also not opposed to government participation in its organization and benchmarks like FSC.
World's largest forest certification system
Each national forest certification system undergoes rigorous third-party assessment against the PEFC Sustainability Benchmarks to ensure consistency with international requirements before earning PEFC certification.
Like FSC, PEFC has a series of Principles (14), Objectives (39) and Criteria (101) that cover the thematic areas of Sustainable Forest Management.  PEFC also has its own Eco-label and a Chain of Custody system.
42 national certification systems are currently endorsed and around 300 million forest hectares certified. This makes PEFC the world's largest forest certification system.
If you'd like to learn more about these wood certifications and how they support various green building rating systems, please contact 9Wood.
9Wood Certificates are available for download below.