9100 Hybrid Panel
Break up the rhythm of your wood ceiling design by blending grille and linear styles for limitless textures.
Exclusively available in Fast>Track, the 9100 Hybrid Panels offer designers unique textures and options for wood ceilings that ship in 3 weeks. With four configurations, panels can be arranged for limitless variation and patterns. Individual wood members vary in both size and orientation and can be custom stained to match any color on solid Western Hemlock. Panel width is 12" and standard nominal panel lengths are 4' up to 12'. Hybrid Panels are custom fabricated prior to shipment and are laid out in the ceiling or wall according to your specified pattern. This product is a preferred design in areas that require seismic compliance. Best of all, the 9100 Hybrid Panels ship in 3 weeks with Fast>Track.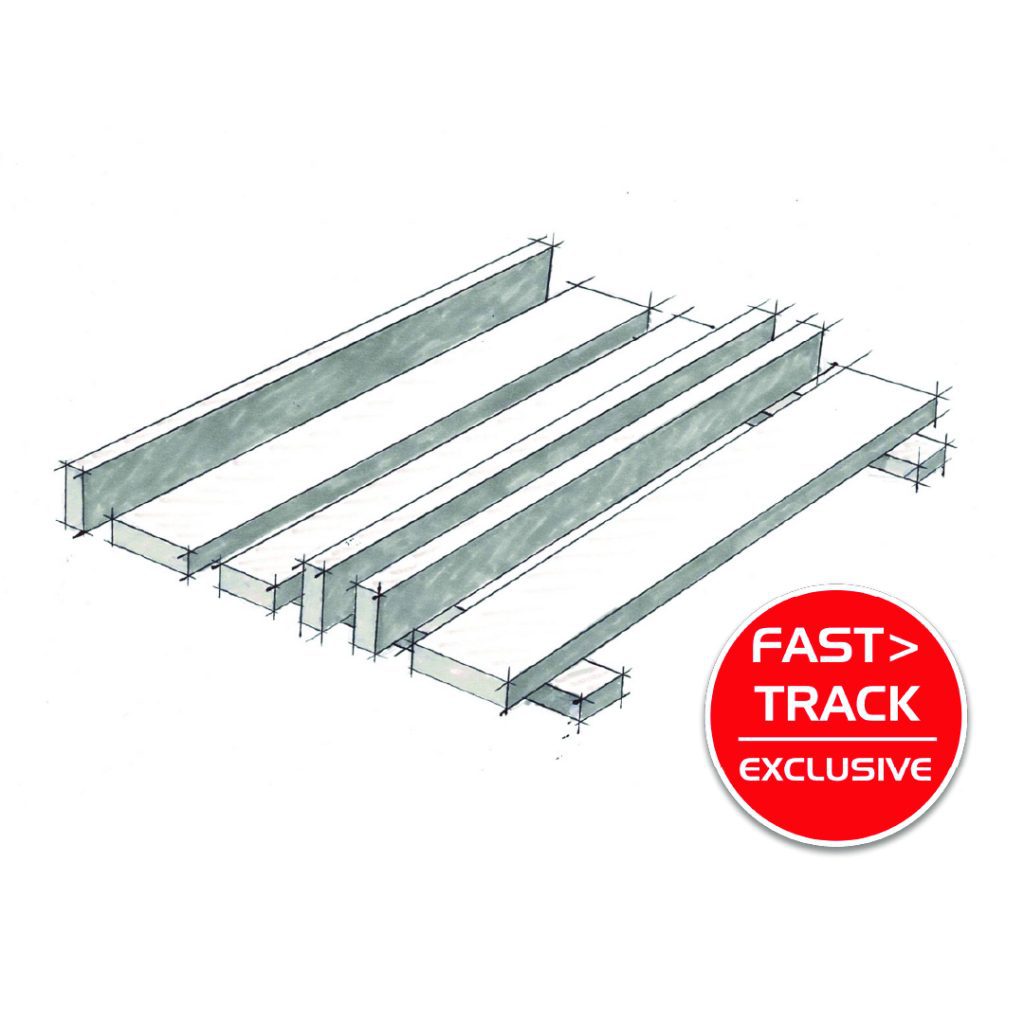 Acclimatization
Hybrid Panels must be cared for in a controlled interior environment (RH 25%-55% max; temp. 60°-80°) and installed only after reaching equilibrium moisture content. Should the building fall outside these limits consult 9Wood for our 3 Tests/3 Tracks Acclimatization Advisory.
Acoustics
The Hybrid Panel can enhance acoustics via sound absorbing material placed over open reveals within the T-Bar grid. Insulation is typically provided locally.
LEED
Hybrid Panels may qualify toward MR-3, MR-4.1/4.2, MR-5.1/5.2, MR-6, MR-7, IEQ-4.2 or IEQ-4.4. As all products are custom-fabricated, LEED credit opportunities are project by project. Please contact 9Wood for specifics.
MEP
The Hybrid Panel permits MEP penetrations in the ceiling's surface. Cut panels may require supplemental reinforcement. Fixtures and diff users must be independently supported.
Seismic
Hybrid Panel styles provide seismic code compliance by means of mechanical direct screw attachment to T-Bar grid via the cross-piece backer. Consult local code for any additional requirements or a licensed engineer.
Species & Finishes
Fast>Track Hybrid Panels are available exclusively in Western Hemlock and can be stained to match any color. Clear, satin sheen finish is standard; custom stain matches are always encouraged.
Suspension
Hybrid Panels are directly attached to 15/16" heavy duty T-Bar main runners. Main runners are typically 2' on center.
System Weight
Hybrid Panels typically weigh 2-4 pounds per square foot, depending on members per linear foot.
Projects Featuring this System