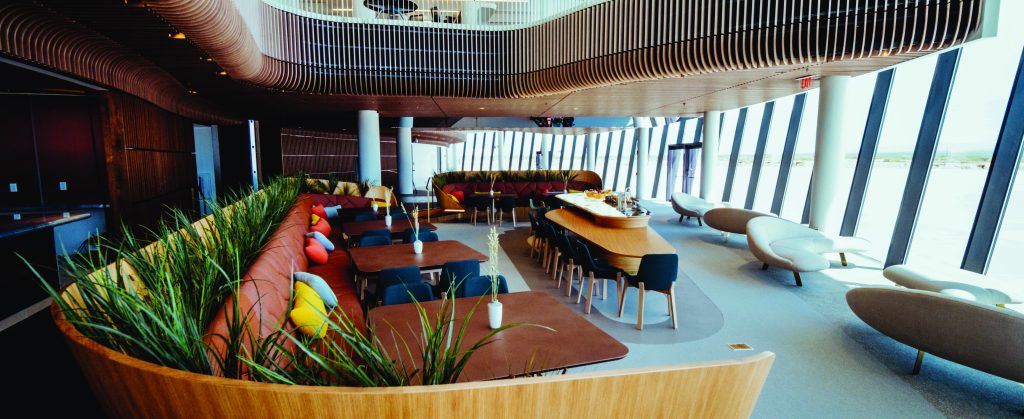 The quality of the stain differs from manufacturer to manufacturer, depending on which staining system they use to stain the wood. In order to produce enough stained wood to keep our business competitive, we need to adopt a staining system that not only produces high-quality wood that looks great but is scalable at a cost that everyone can work with.
 Making a choice about which product best fits the ceiling you are looking for depends on knowing the difference between Dye-based Lacquers and Pigmented UV Coatings. 
1.) Pigments: A stain made with Pigmented UV Coatings is made of finely ground particles of color, suspended in a clear coating. Pigments cover the wood in the way paint covers the canvas, and because the pigment is suspended in a UV film, the color is visible on the surface of the wood.  Spraying on a UV coating requires one extra step than a Dye process: water is added to the UV Coating so it can squirt out a spray tip. This water needs to be flashed off before it is hit with UV light. Pigmented UV Coatings are the industry standard for stains. 
2.) Dyes: A stain made with Dye-based Lacquers is made from a variety of chemicals dissolved in water, or a solvent. Unlike a pigment, a dye is absorbed by the wood, rather than covering it. This allows the dye to better penetrate into the wood, and really brings out the grain of the wood. 

--Check out: Wood Finishes – Take Your Project from Good to Gorgeous! [VIDEO]--

Nearly every business in our market has made the switch from Dye-based Lacquers to Pigmented UV Coatings in the last 15 years. And this makes sense; raw wood and a pigment coating goes into a machine, and comes out having been hit with a UV blast to produce a finished wood, and at a 10% savings over lacquers. Given that lacquers must cure for a much longer period than pigments, it seems reasonable to use the industry standard over a more costly alternative. 
9Wood is so confident in our Dye-based Lacquers as the better choice for your project for a number of reasons, and we'll send you a free Compare the Look stain box so you can see for yourself the boons that our stains have to offer.
With the finished, lacquered pieces in your hands, you will notice the same things that stood out when we did side-by-side comparisons:
If you use A Pigmented UV Coating, the production cycle is such that matching a custom color for a project can take time, and be costly. UV Coatings are applied by machines that require configuration. Your supplier should be able to provide you with quick custom samples to meet your specifications – when it doubt, reach out and ask. A Dye-based Lacquer through 9Wood allows quick turnaround for custom stain matching. For our customers we reliably turnaround custom stain samples quickly, usually within a few days from receipt of color control.
A Pigmented UV Coating suspends the pigments in the UV film. Because the color sits on top of the wood, it has a "painted" effect, and appears cloudy and opaque. A Dye-based Lacquer produces vivid, 'naked' stain, one that makes the wood grain 'pop'. The dye wash penetrates into the wood to enhance the grain, rather than cover it up, and so you can add much more intense color to the wood without losing any of the depth or grain.
A Pigmented UV Coating can suffer from "blotchiness," during the finishing process, a result of the machine oscillating while the finish is applied, and because the color sits on top of the wood itself. Blotchiness can also be a result of different wood densities, where the pigment is absorbed at different rates. A Dye-based Lacquer combines penetrating dyes with thin lacquers. This stain system keeps the coating 'wet' just long enough to lay out on the wood and penetrate deep into the grain. This formula overcomes machine oscillation and wood density variation.
A Pigmented UV Coating is perfect for staining, to an architectural grade, four of the six sides of any given piece of wood. But in order to coat the ends, a second step is often required, which introduces another finish system to the process, usually with a compromise in stain quality. A Dye-based Lacquer easily permits spraying the ends of the board at the same time as the other four sides, allowing the piece to dry uniformly.
If cost is your number one concern, Pigmented UV Coatings pencil out to be about 10% cheaper than lacquers. They are also much easier on operations to produce, allowing the manufacturer the chance to scale up production fairly easily. With Dye-based Lacquers, the added benefits come down to an increased cost, though only by a margin of 10%. 
The stains our team has produced in the last two years using Dye-based Lacquers are so beautiful that even our production crew is impressed. And with our reliably fast turnaround on matching stain colors, chances are the time you save in choosing a Dye-based Lacquer could be the savings you're looking for in your design project. 
If you found this helpful, check out: