Updated October 2022, Article originally published August 2020
"How much does a custom wood ceiling cost?" is one of the first questions architects and contractors want to know when they reach out to 9Wood.
Although this is a difficult question to answer in an article, we will do our best to discuss the factors that affect custom wood ceiling pricing. We'll break down material cost ranges per product series, provide some guidelines for installation costs, explain the key cost drivers that affect the price per square foot (SF), and give some examples of our more economical options.
The price of a custom wood ceiling has two primary components:
Material: Raw materials, fabrication, freight to job site
Installation: Installation labor and suspension (heavy-duty T-bar, drop wires, etc.)
Total Installed Cost = Material + Installation
When operating in a metropolitan area, a good general rule is to double your material cost to get your Total Installed Cost. While this varies widely across the country, this general guideline should cover everything a subcontractor will need to install the finished ceiling.
The incredible thing about specialty materials, such as ours, is the potential to bend the rules of architecture and design. The wide variety of suspended wood ceiling options naturally leads to price ranges for materials that can vary significantly.
The multitude of possibilities can also add time to the pricing process, but a wood ceiling manufacturer should be able to provide a quote for your project within 2 business days of receiving architectural plans and specifications.
9Wood Products – Material Cost Ranges $/SF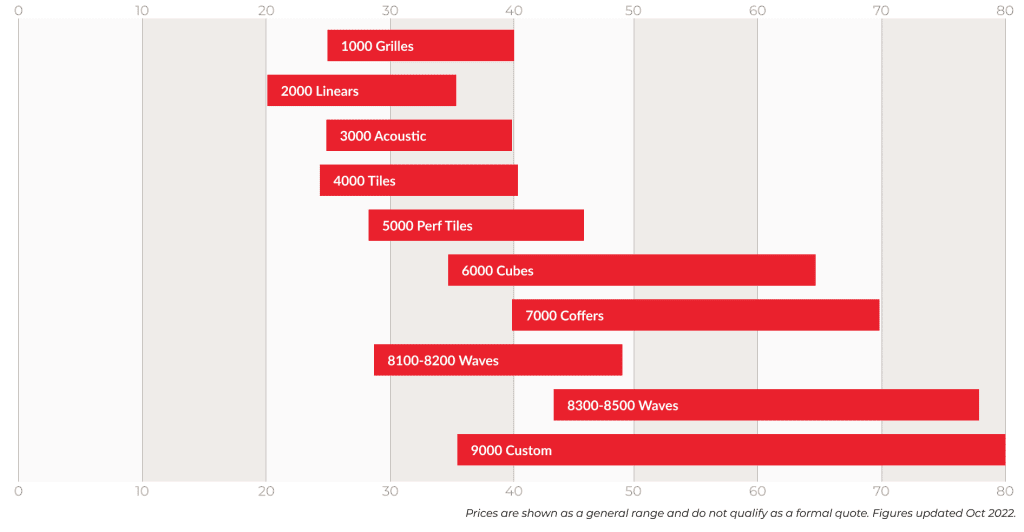 The chart above provides general price ranges for each of our wood ceiling product series. For instance, our 8000 – Series Waves can vary drastically if you are specifying a Grille- or a Linear-based product (8100 or 8200) versus an Acoustic or Tile product (8300, 8400, or 8500).
At this point, you're probably wondering…
What are the primary cost drivers for material?
Our Design Assist Specialists will help you consider several key factors:
Wood / SF – Depending on your series and overall product assembly, the more wood per SF, the higher the cost of a wood ceiling.
Species – Solid hardwoods are expensive, followed by a hardwood veneer or solid softwood. Veneers and softwoods can be in the same ballpark, depending on the product.
Lengths & Dimensions – Using industry-standard dimensions such as 8' panels instead of 9' panels or 4' tiles instead of 5' tiles can reduce material waste and lead to big savings.
Stain & Finish – We offer three primary finish options: Clear, Stain, or Opaque. A clear finish will almost always be less expensive than a stain on the same species. Our team can match any custom color. Just send us a color control.
Fire Rating – All components in our products are fabricated using Class A materials. In some exterior situations, fire rating may not be required by local building codes. If not needed, removing the specification can result in minor cost savings.
Exterior vs. Interior – Sealing and protecting the wood for exterior environments, such as a soffit, requires additional processing steps and treatment time. This added level of protection comes with a premium.
Project Scope – No job is too small for 9Wood, but production runs for smaller jobs sometimes incur additional set-up costs. This generally applies to veneers (which are produced in full sheets) or custom-shaped products.
Logistics & Add-Ons
Trim – Trim can be included in a quote, depending on the product application and unique reveal or wall integration challenges. Trim is priced per Linear Foot (LF) rather than SF and is usually secondary to the main quoted product.
Accessibility – The level of access needed above the ceiling can have a cost impact. Spot access (needing access panels every 500 SF or so) is much more cost-effective than requiring full access with every panel.
Hardware & Acoustic Backing – Many products have options for factory-installed attachment hardware or acoustic backing. Not only does this reduce the time needed for installation, but it also reduces contractor labor in the field.
Freight – We're located in Springfield, Oregon, the heart of wood territory. Freight cost depends on the number of shipments, their size, and the distance shipped. Calculating freight is easy once your product specifications, scope, and job site location are known. Our proposals include an estimate based on these factors and unless a project's scope increases, we invoice for this amount when the project ships.
Schedule – If you're a contractor, it's very important to share the bid date with your Design Assist Specialist. This enables us to deliver quotes on the day needed. Many of our products also have a Fast>Track option, which is not only faster but has a guaranteed ship date from our factory. If a Fast>Track project ships after the day promised, we automatically refund 5% of the shipment's value for every business day we are late.
Complexity of the Space – Critical lighting or lighting integration might require additional factory solutions or extra field installation work to ensure the design intent is delivered properly. Complex curves, angles or multi-plane applications would fall in this category.
Major Consideration: Factory vs. Field Customization
When a designer or contractor inquires how much our wood ceilings cost, the extent of customization is always an important conversation. 9Wood can factory engineer and fabricate a complete system for attachment to the subcontractor's heavy-duty T-bar grid, but it can be more economical for contractors to perform cuts or customization in the field.
A wood ceiling with more factory customization will be more expensive to buy but less expensive to install. Relying more on field cutting will cost less to buy but more to install due to the additional field labor required.
Schedule is often the deciding factor—factory cuts almost always take longer due to the level of coordination needed at the job site for as-built dimensions, updating shop drawings, etc. With the guidance and support our Project Management provides, purchasing nominal length panels and cutting to specific geometry on-site can save money on a project and still provide a beautiful ceiling solution.
Finally,
What are the most economical options?
Progressively installed Linear systems using commonly available species are the most budget-friendly. Here are two projects that are economical overall and were less expensive than comparable panelized or grille options.
Architects have used both of these styles to achieve amazing results, and we frequently see designers select these products as their Basis of Design.
A final word on custom wood ceiling costs:
This article just scratches the surface of pricing realities. The cost of a wood ceiling is not a simple question, nor does it have a simple answer. Hopefully, this gives you options for how a custom wood ceiling could fit into the budget for your next project. We love working with Architects and Designers and are always ready to provide design assistance, samples, and quotes for your project.