Schedule-proof your project.
Protect your reputation buying a customized wood ceiling with a 3-6 week turnaround, including shop drawings and submittal samples.
Leo Batenhorst, one of our founders and owners, talks about the Fast>Track program. Manufacturers in our market are focusing on providing fast wood ceilings for their customers. After five years and over 1000+ projects delivered – here is what you need to know about Fast>Track.
Design is too personal to be threatened by schedule
Has schedule pressure ruined your design?
Surprised by long wood ceiling lead-times?
Ruled out custom stains as an option?
Forced to substitute a commodity product?
Off-the-shelf solutions compromising your design vision?
Faced unhappy clients with 11th hour redesign?
We make award-winning ceilings, on-time.
We care about your project design
and your client's schedule.
More than 1000 Fast>Track projects shipped
More than 98.6% shipped on the day promised
More than 100 Fast>Track-eligible product options
How it works
1. Select your species/finish

2. Choose your SKU

3. Create your spec
Specify Fast>Track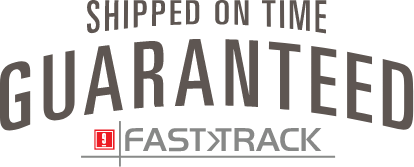 What makes Fast>Track so different?
It's guaranteed. If we miss our promised ship date, we will refund you $1000 for every business day late up to the full value of the order. These are not off-the-shelf products. These are custom wood ceilings in 3-6 weeks—including shop drawings and submittal samples for your space. Why focus on schedule?
Architects and Designers love wood, and they like to design wood ceilings into their spaces. What stops them? Budget and schedule.
Of the two, schedule is the most dangerous. Designers often don't think about it—until it's too late.
(Real) Lead-times
A typical wood ceiling requires 8-10 weeks to make. This includes raw material procurement and fabrication. But that's only half of the real lead-time. Since these are custom-made for each individual space, they can't be off-the-shelf products. This means the approval process is not a formality, it's a critical design step. Shop Drawings and Submittal Samples are required to translate the design intent into fit-for-use materials. This approval process ADDS another 8-10 weeks to the overall schedule! That's 16 weeks minimum from the start of Submittals–and this doesn't include installation time. (And of course, more complex projects require more time).
Two Solutions (Conventional and Fast>Track)
Conventionally, the construction team can carve out months in the GC's schedule to accommodate these long lead-times for approvals, fabrication and installation. This is how most design teams attempt to pull off specialty finishes. The problem is, it often doesn't work. Project managers find it difficult to keep track of long lead-time items—particularly toward the end of the project. The unhappy result is a compromised design: Off-the-shelf non-wood products are substituted to stay on schedule.
Fast>Track takes a different approach. For eight years, 9Wood looked for another solution. Off the shelf was not the answer. Wood's virtue is its rich pallet of species, stains, textures, and sizes all configured to a unique space. We felt off-the-shelf is too great a constraint on Designers. (And besides, we just don't have a passion for the commodity business.) We wanted to help architects and designers create truly custom wood ceilings, but with a very fast turnaround. To find the solution, we took applications from the Theory of Constraints. In 2016 we launched the Fast>Track program. Because these are not off-the shelf products, they still require Submittal Samples and Shop Drawings. We just figured out a way to do it all in 3-6 weeks.
A solution backed with a guarantee
Talk is cheap. To back up this short lead-time claim, we developed the industry's only on-time guarantee for custom finishes: We promise to ship on a specific day 3-6 weeks out. If we are late, we will refund $1000 for each day until we ship—up to the full shipment value. So far, we've shipped hundreds of projects and we're 99.8% on-time—to the day!
The power of speed
If architects and designers want to use custom materials, they must consider schedule. Specifying products with fast production AND fast approvals protects custom designs. If there's a chance your project won't have the time required for typical custom materials, then specify a Fast>Track eligible style. For a small price premium, you'll be able to hop into the express lane and keep your custom wood ceiling.
Budgets
It is true, wood ceilings are expensive when compared to Acoustic Ceiling Tile. Though we use standard suspension T-Bar grids to keep installation costs down, wood ceilings can range from $15-$30/SF (and up) without counting installation costs. Installation costs vary widely depending on the market, from $10 to $30/SF.
There are three main ways to stay on budget:
Select the most budget friendly wood ceilings. For 9Wood, these are typically veneers in a linear or tile configuration. Certain common species are most economical, but designers still have an unlimited color pallet. We've invested in new finishing technology that allows us to provide custom stains at the same cost as our standard stains.
Contact our Design Assist Specialists who can help find the path through all the options to keep your wood ceiling project from the VE Axe.
Adjust the scope of the wood ceiling. Sometimes less is more. No wood ceiling is too small for 9Wood.
Continue reading

Design Assist
Interact with a real Design Consultant to help specifying Fast>Track or answers to your questions.

Get a 3" tile finish box
We'll send you a sample. Tell us what you're interested in.

Fast>Track Brochure
Everything you need to specify Fast>Track.
Specify Fast>Track
Select your product and it will populate the verbiage to insert into your Division 9 spec (09 54 26).
1. Select your species/finish
2. Choose your SKU
3. Complete your spec
---
Add this to your specification document
2.2 Specialty Wood Ceiling
A. Basis of Design: 9Wood Fast>Track (FT.9Wood.com)
Wood Panels:

Style:
Species:
Finish:
SKU:
Reveal Scrim:
Panel Sizes:
Fire Rating:

Delivery: 3-6 week lead-time, including approvals, with a guaranteed ship date.

Why architects love Fast>Track
Hundreds of options and custom stains
Project-specific submittals
End-product looks beautiful

Why sub-contractors love Fast>Track
Headache-free ship dates, guaranteed
Standard installation with t-bar
Personalized project support

Why GCs love Fast>Track
Headache-free ship dates, guaranteed
Approvals assure product meets spec
Value for client's investment