Perimeter conditions are often overlooked when specifying suspended wood ceilings, despite having a substantial impact on cost, aesthetic, and schedule. Each (perimeter option) offers a benefit as the perimeter detail.
Each perimeter option offers a benefit as the perimeter detail.
Four perimeters options are typically employed — Floating, Ledgers, Vertical Returns, and Custom. Each offers a benefit as the perimeter detail.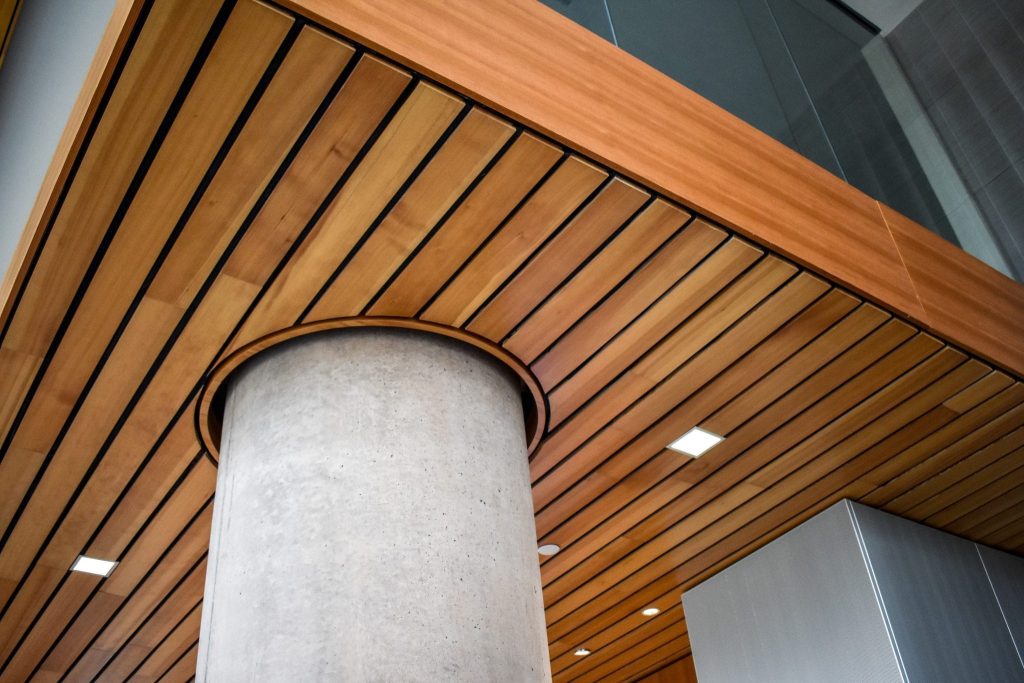 Floating
Floating perimeters allow field-cutting to accommodate as-built condition, making them cost-effective and schedule-friendly. Typically, the reveal (gap) is 4" or greater to allow slight tolerance in the precision of the field-cuts. Very tight reveals at the perimeter (1″ or less) require a high degree of skill and coordination by the field installer, and usually carry added labor costs.
Ledgers
Ledgers use wall angle, shadow molding, or wood trims to cover field-cut edges, making the installation cost effective and detailing attractive. This is an especially useful detail when specifying a veneered product, which otherwise might require costly end-banding of each member to cover the exposed substrate. Because of the ledger material, there is a slight cost impact.
Vertical returns
Vertical returns, or "upturns", are a combination of the floating and ledger options. A matching wood member, usually 4" or taller, is attached vertically to the perimeter of a floating perimeter. There is usually a ½" – ¾" reveal offsetting the return from the ceiling panels. Like the ledger, the return hides field cuts or exposed substrate. Returns can be attached so their bottom edge is slightly lower than the ceiling, creating a nice border detail.
Custom
Custom perimeters include any unique shapes, pre-curved pieces, custom profiles, or "one-off" factory-cut panels. For perforated tiles, this entails non-perforated borders to avoid field-cutting through perforations. For some designs, a custom perimeter treatment punctuates the ceiling, and justifies the added cost and lead-time.