Gaining access above a suspended ceiling can be an important maintenance need but can introduce design limits or increase cost.
The building's true functional requirements will guide designers toward accessibility and design needs of their clients.
We advise identifying the true functional requirements of the building owner's Maintenance department. These functional requirements will guide designers toward accessibility and design needs of their clients.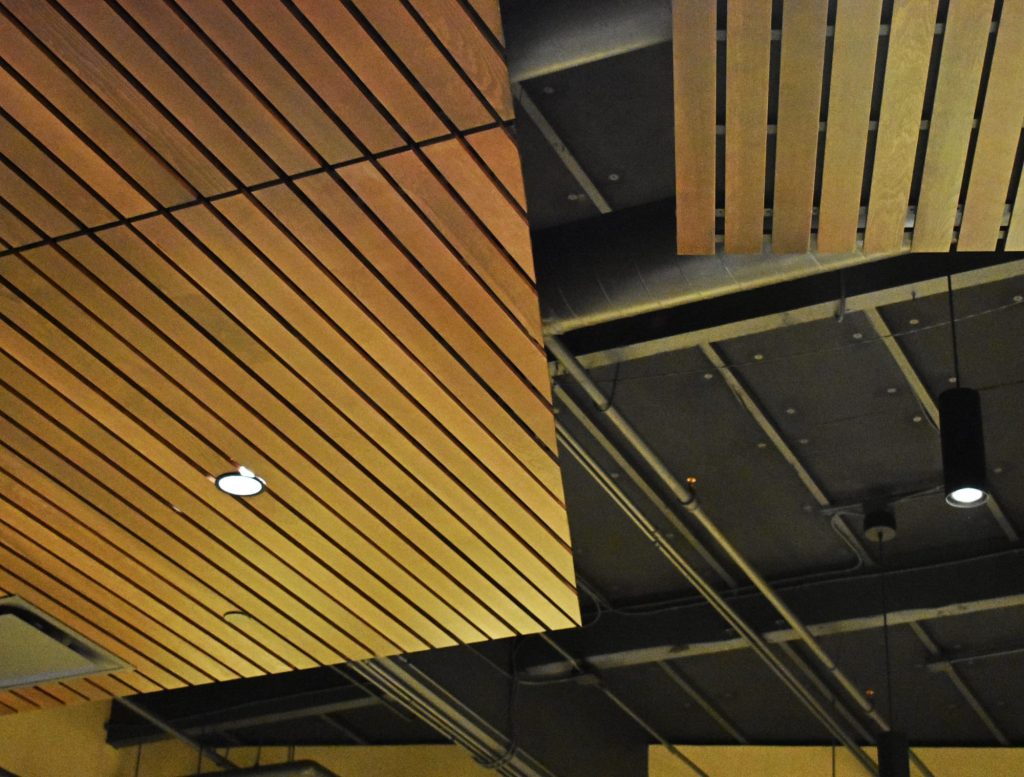 Accessibility can generally be classified as:
Non-Accessible. A ceiling without MEP concealed in the plenum.
Progressive. Examples are a continuous linear ceiling. To access an area, planks must be removed progressively, starting at the perimeter.
Occasional. Examples are concealed screws inside grille reveals screwed directly to T-Bar. These panels can be unscrewed from the T-Bar, the panel dropped out of the ceiling, and screwed back into place. This is advisable for frequent access.
Spot. An access panel can be placed in the ceiling field when a specific area needs access, such as a HVAC junction.
Frequent. If regular access, such as for cables, is required, access to the entire ceiling is possible. 9Wood's Torsion Spring Tiles would be an example of a fully accessible system.
In addition to maintenance requirements, two other factors should be considered:
Plenum Depth. Some plenums do not have space for upward panel lift-out.
Seismic Compliance. Seismic zones require designs that attach our wood ceiling to seismically compliant grid installations. For some product series (e.g., 4000 Series Tiles) safety tie-offs may be required. Locally stamped engineering calcs may be required for permit compliance.
9Wood suspended wood ceilings are designed to attach, in a variety of ways, to commercial T-Bar grid. Using T-Bar to suspend wood ceilings brings the advantages of suspended ceilings: systems familiarity, low interstitial suspension costs, ease of installing MEP assemblies, accessibility, and lower costs.
To coordinate accessibility during installation, we advise always specifying wood ceilings in CSI Division 9, Finishes. This way acoustical subcontractors, not millworkers, will pick up the work. They have the experience and skills to successfully install custom wood ceilings, including accessibility related features.