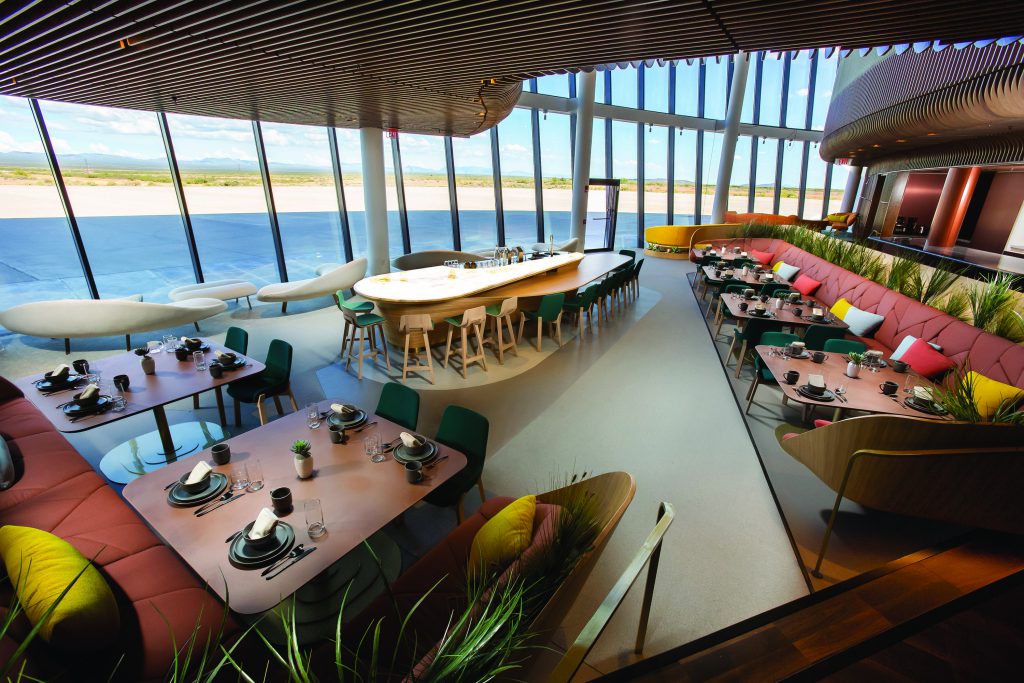 With a one-two punch of aesthetics and acoustics, wood ceilings are finding their way into more institutional and commercial spaces. Be it an entryway lobby, break-out space, corridor or common area, the beauty of wood brings warmth and texture. The question is, how do you take it to the next level? Many stock images suggest wood ceilings are limited to straight lines, standard on-center spacing of uniform slats (members), interior applications only, or a standard palette of finishes. What about something different that allows you to exercise your freedom as a designer?
From our vantage point, designers shouldn't be constrained by such limitations. As a premium material, wood ceilings should not only work harder for you acoustically, but they should give you plenty of options aesthetically. The truth is, wood ceilings not only bring warmth and texture to your space, but it's a fantastic specialty material with which to exercise your creativity and put your signature on a space. With just a few subtle twists in the design, you can deliver that special design intent for your client. Here are five current trends that showcase how architects are doing just that.
1. Custom stains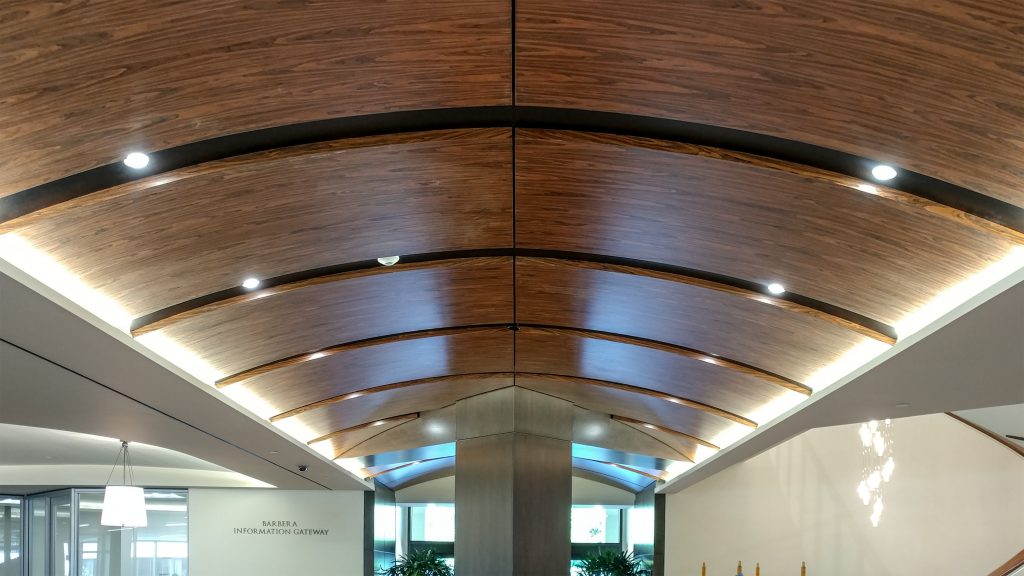 There is no easier or more cost-effective way to put your own signature on a wood ceiling design than with a custom stain. Just think, with a custom stain no other wood ceiling on the planet has the exact same color! The designer only needs to send a swatch from their color board to the wood ceiling supplier for a match. This can be a small 3" square from the casework, flooring, or millwork. The wood ceiling supplier takes that swatch, matches it with their own finish, and sends their match back for approval. Another option is choosing one of the wood ceiling supplier's standard stain colors if there's no time for special matching or room in the budget. The result is a natural wood ceiling that beautifully ties in with other wood finishes or specialty materials in the space.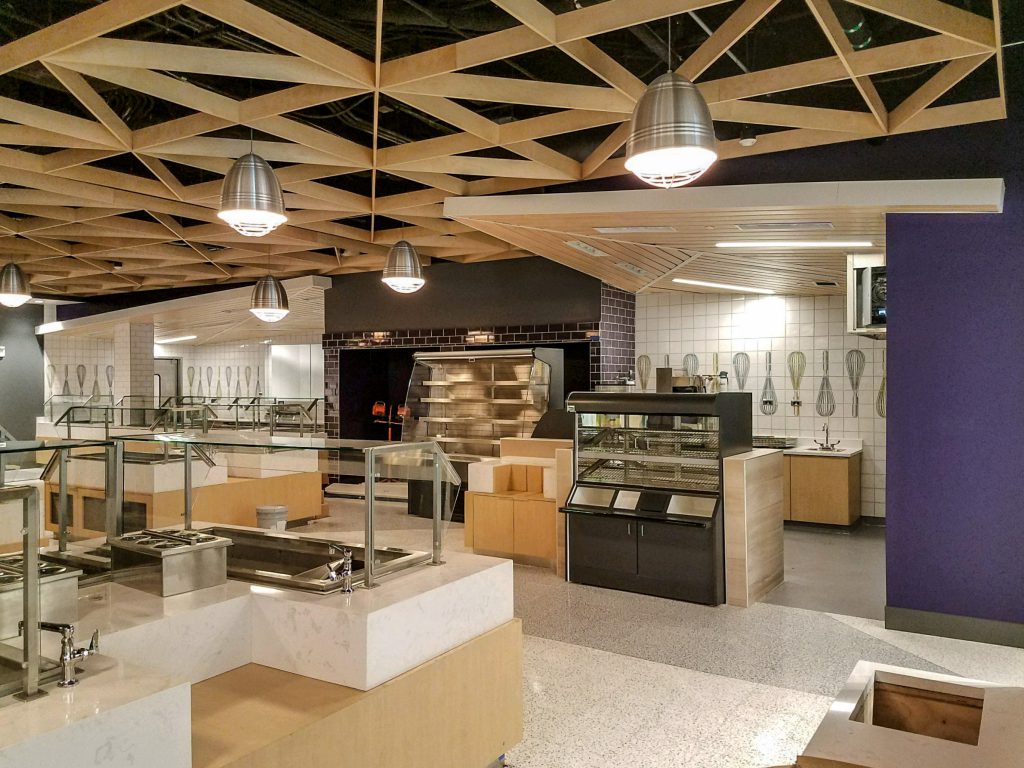 How about breaking up the rhythm and texture of your ceiling by using a variety of plank, slat, or on-center dimensions? This is entirely possible if you sort out a few things to keep the customization—and cost—low. Wood ceiling suppliers have access to standard nominal lumber dimensions. For example, 1×2, 1×3, 1×4, 2×2, 2×3 and 2×4 sizes. (Net dimensions depend on whether the species is a softwood or hardwood.) The trick with creating a hybrid pattern is translating it into a systematized panel layout that uses standard sizes and stays on module. For example, by designing a handful of panel types that fall within a standard 12" panel width and length up to 10', the panels can be laid out in the ceiling according to your specified pattern. Once installed the aesthetic reads as randomized placement to the casual observer. Usually just four panel types (Ex. Types A, B, C, and D) will deliver a randomized texture, and keep it within budget. Another method is to change up the species, colors or sizes of individual slats. The result is a custom pattern that is visually interesting and suggests much higher custom millwork costs than you actually have to pay! 
3. Curving and Angled Perimeters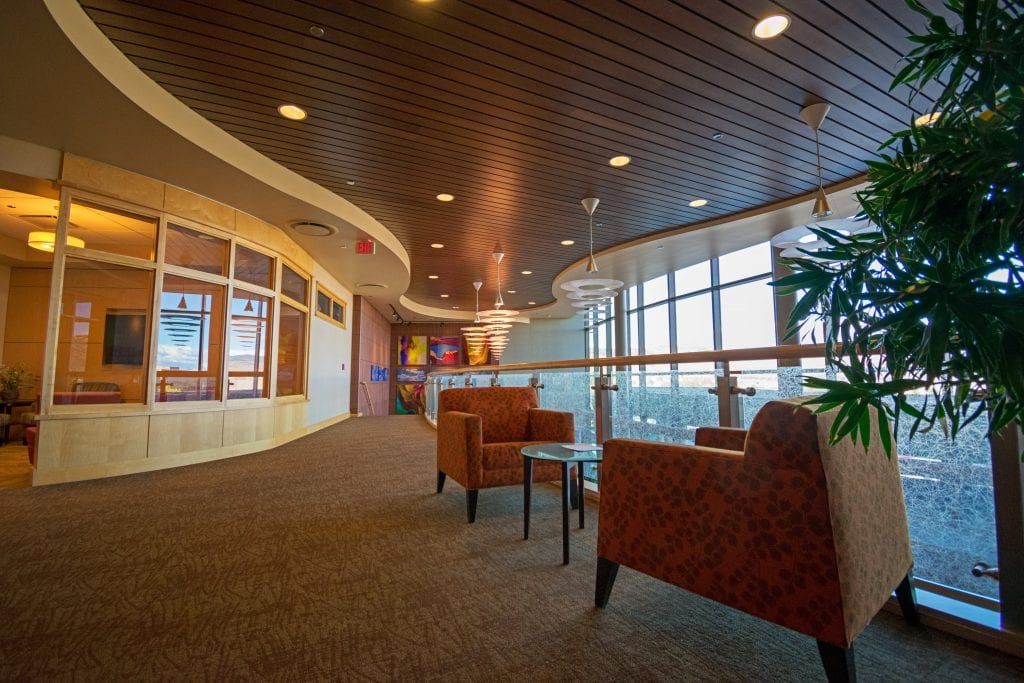 Designers are moving away from rectilinear perimeters in favor of ceilings with curving or angled geometry. This gives unlimited options for your ceiling design: ovals, circles, triangles, trapezoids, and one-off shapes throughout the space. To accommodate these irregular perimeters economically, designers often specify a monolithic product for infill. A linear wood ceiling that is clipped plank-by-plank to the suspension T-Bar is an example. Like flooring that is progressively installed and trimmed wall-to-wall, progressive linear systems deliver the beauty of wood. But they eliminate the hassle of pre-panelized systems that inevitably require extra time for finished carpentry to fit-out these irregular perimeters. A nice feature of linear in-fill systems is plenum access through hatches and panels. These kinds of systems are simple and practical, making it easier to deliver custom-shaped ceiling designs.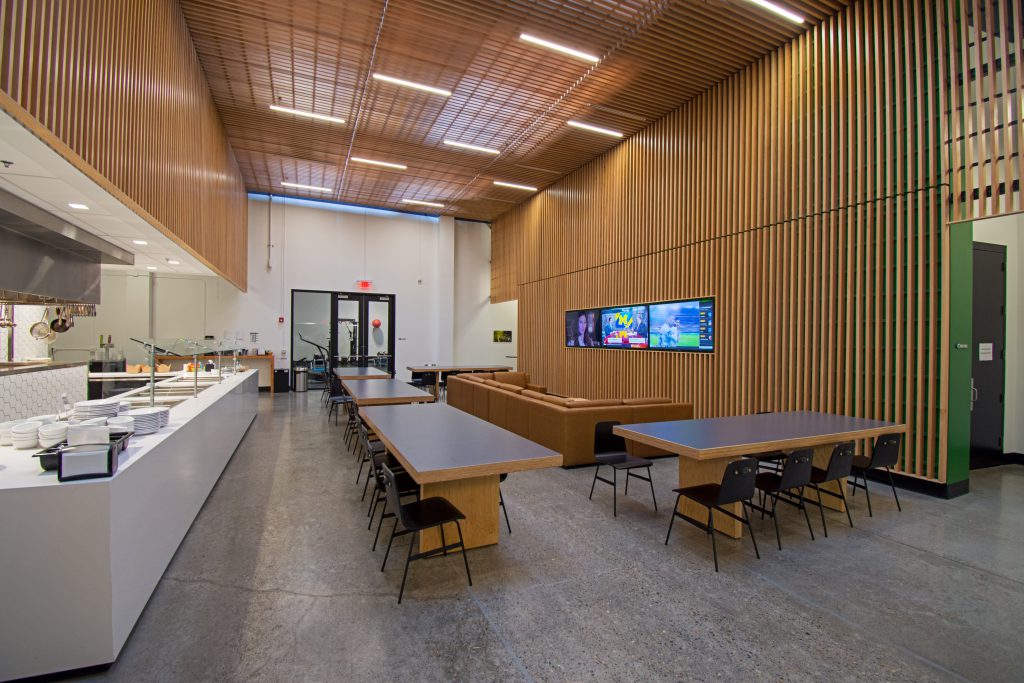 Wood ceiling options don't have to be relegated to the "the third surface". Why not take it down the wall for added acoustics and a seamless aesthetic? This integration can be done with a variety of wood ceiling products. Most can be attached to the wall by fastening through backers, clips, or other hardware specially designed for wall furring or framing. This makes the ceiling-to-wall intersection pleasing and intentional. The wood ceiling supplier should have details for inclusion in construction documents and coordinated in shop drawing. Keep in mind it's important to specify your wood wall panels in Division 9. A 95 00 00 spec ensures the same supplier provides all the material and the same subcontractor does all the install—so wall and ceiling match. This also ensures the proper detailing for all attachments, including the intersection, is controlled. And that the wall and ceiling arrive to the job site at the same time.
5. Exteriors Soffits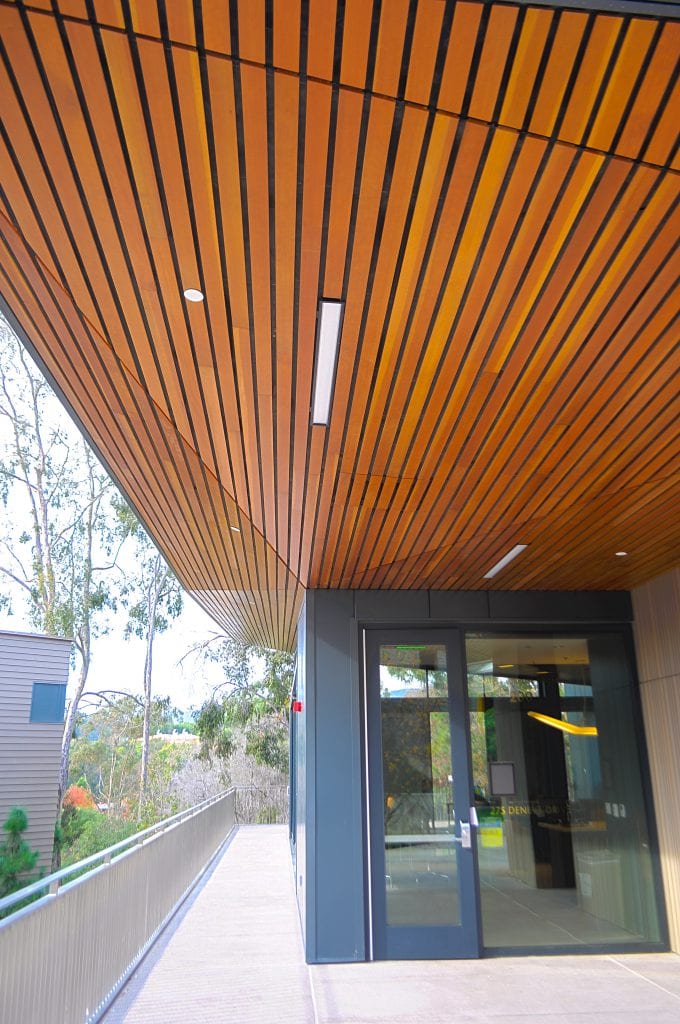 How about carrying your interior wood ceiling through the glazing into the exterior soffit or canopy? The wonderful thing about wood is some species are perfectly suited for an exterior environment. This is because their natural cell structure gives them "dimensional stability". That means that they will not expand or contract to a great degree when exposed to swings in humidity or temperature. Selecting for vertical-grain material (parallel graining) provides even more stability. An exterior, heavy-duty finish, which can also take a custom stain, is the finishing touch to keeping the exterior application protected and looking great for many years. Keep in mind, unlike exterior wood cladding, soffits and canopies do not have direct exposure to the elements (sun, wind, rain, snow). Typical wood ceiling products are not suitable as directly exposed wood cladding.
Wrapping It Up
Designers continually think up new ways to use wood ceilings in their spaces. By employing or adapting any of these current trends, your space can be made inviting and unique. We understand you want to deliver just the right look for your client. Now you have even more options. If you want to take us up on assisting you in that process, take a look at our project gallery, products, articles or videos. We are here to help you in the process. We even have an AIA CE course if you want to learn more about wood ceilings and get a credit. Or better yet, reach out to our team for technical support, samples, and budgets. We can't wait to assist as you design your unique space!