Does 9Wood sell wood walls?
We do manufacture wall panels. They are certainly not as common a product for us as ceilings. We market ourselves as a ceiling company, but we certainly can do walls as well. A lot of wood walls that we see are extensions of the ceiling system: grilles or linears, tiles, acoustic planks, acoustic tiles, or perf tiles.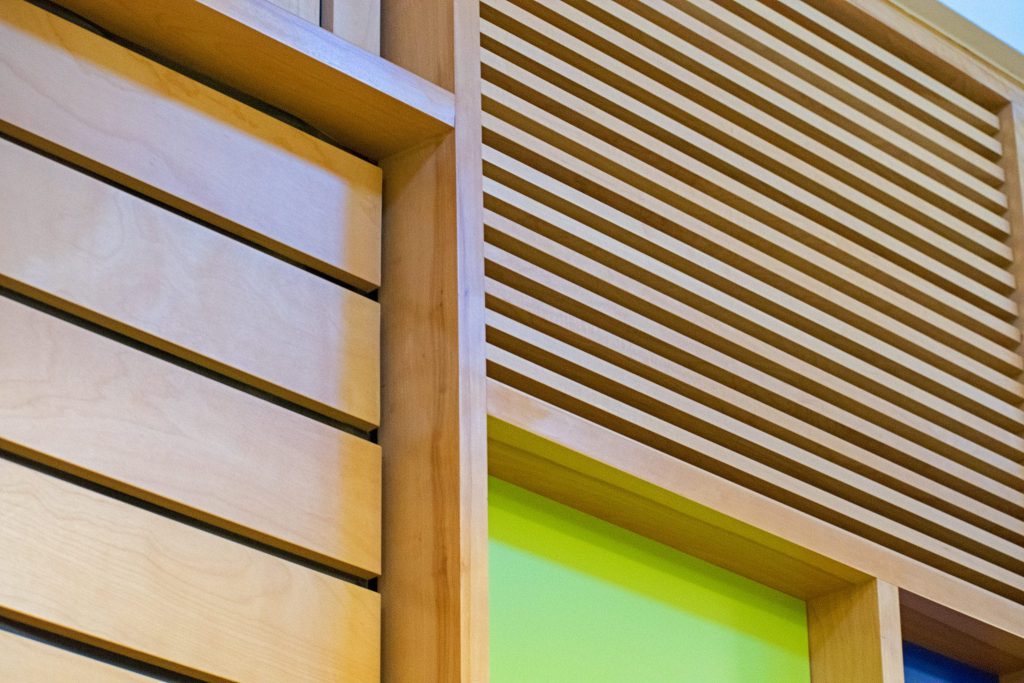 What are typical custom wood wall applications?
Typical wood wall applications we would see are like pony walls, curtain walls, fronts of stages, or maybe a counter area where we're cladding the front of it. Also, wall partitions or wall screens are popular custom wood wall applications.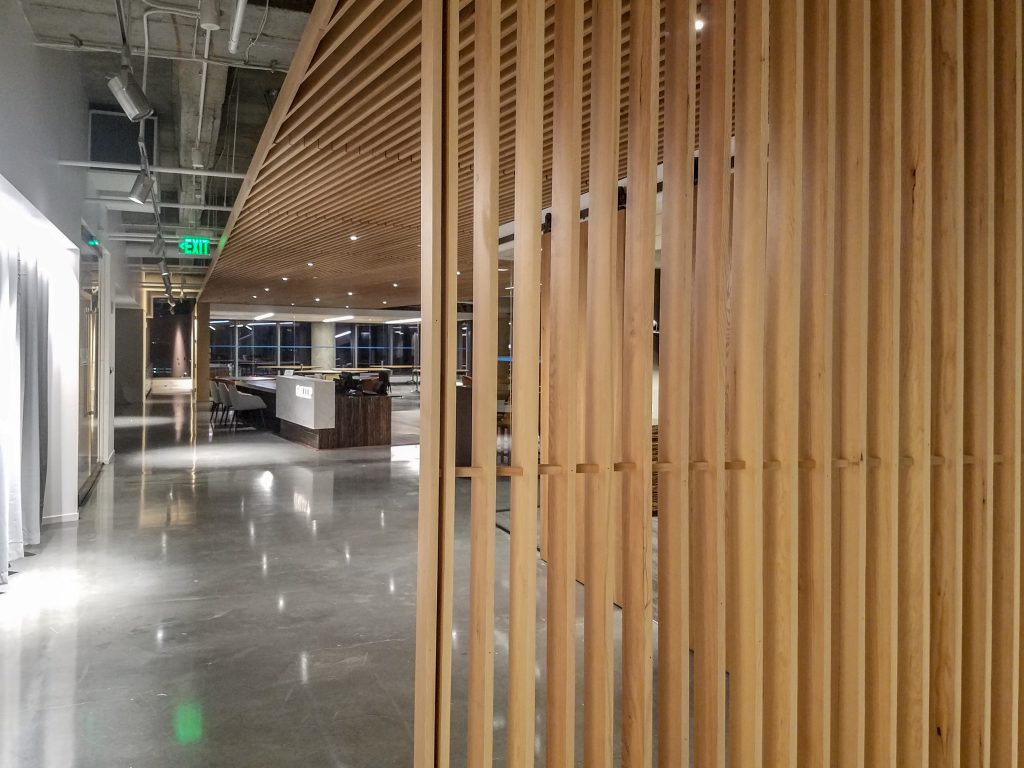 What is a wall screen?
9Wood does do wall screens. We have a standard application for both vertical and horizontal wood wall options.
A wall screen is something that's visible from both sides. It tends to be freestanding; however, it will most often be tied into an adjacent ceiling system of the same type.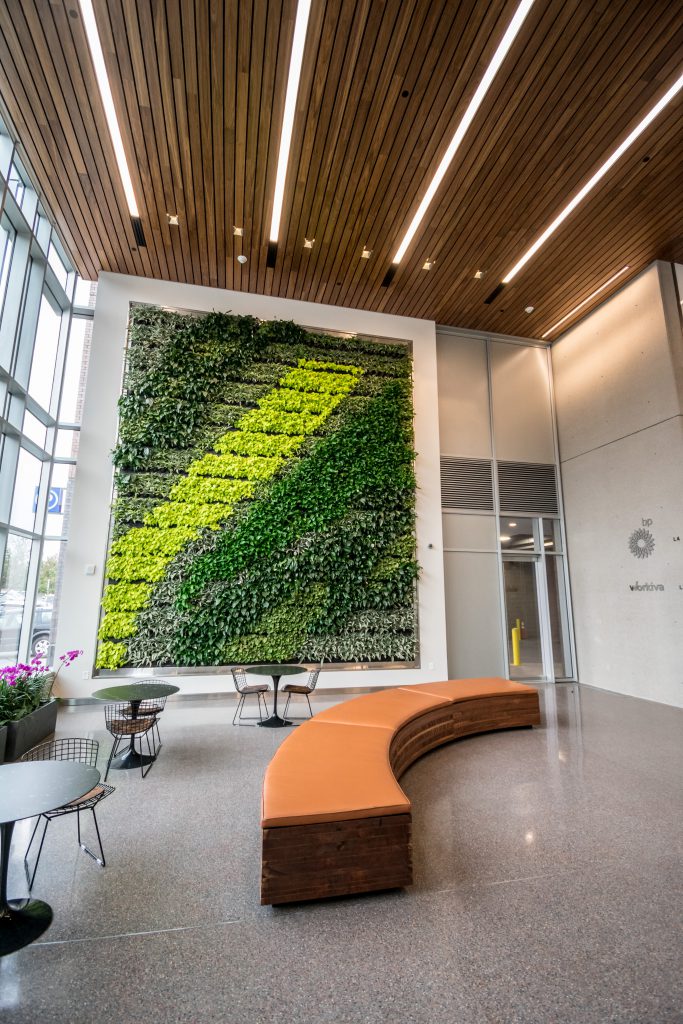 Do wood walls integrate with living walls?
We've been asked recently about a couple of projects on the living walls. It's a relatively new question for 9Wood as far as our project integration with them. There are certainly some concerns as it relates to the moisture that is typically required for the living walls, and we're still trying to figure out the best way to handle those applications.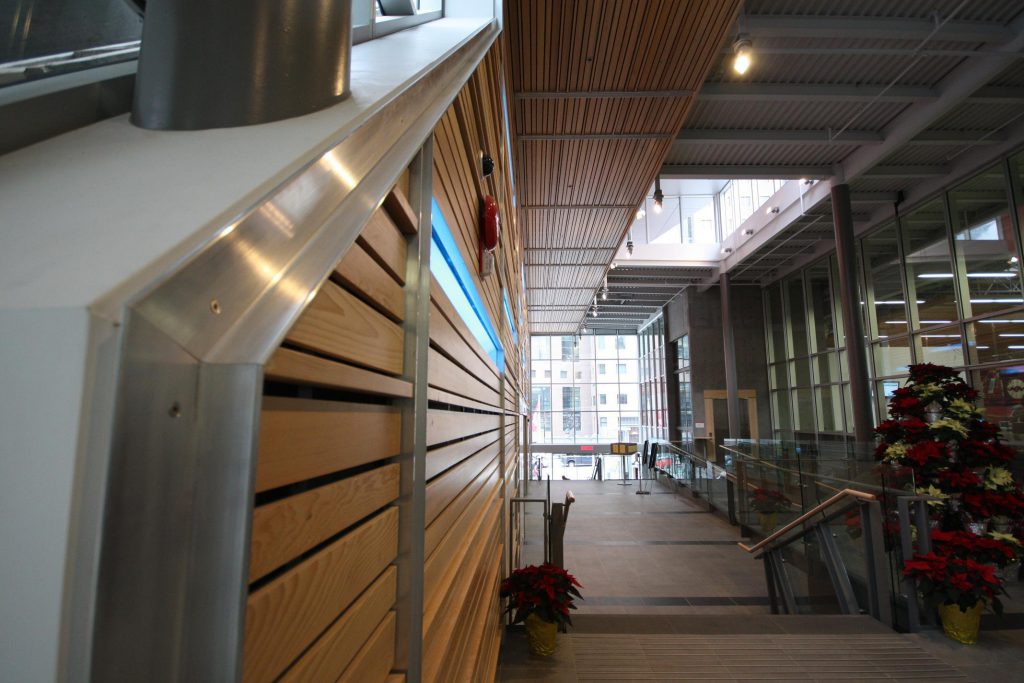 Every once in a while we are asked if we could provide a wood-protective barrier or a structural barrier. This could be around a stair area or on a walkway on a second floor. In those applications, what we really require is a metal structural frame to attach our product to. Think of our product as more of a decorative finish versus a structural barrier.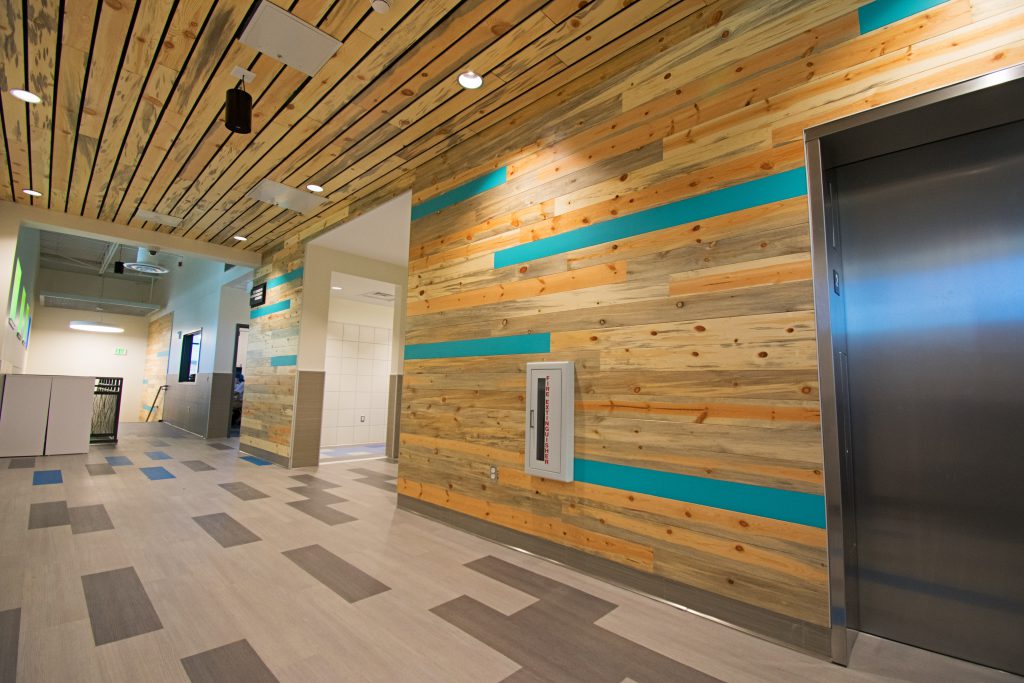 How do wood walls compare to wood ceilings?
Walls can be more complicated than ceilings in some aspects, for instance, suspension. Most of our products are designed to attach to T-bar suspension systems. With a wall, we don't have the typical T-bar suspension system. This can add some complexity, especially because the application tends to be more high touch.
You expect a lot of traffic with wood walls where people might be leaning against them, putting their hands on them, or having their feet hitting as they're standing next to the wall or walking past it. We would typically recommend a wood wall product that's a lower profile, for instance, a linear versus a grille. If you are going to do a wood grille wall, then we would recommend a more dense pattern with shallower members.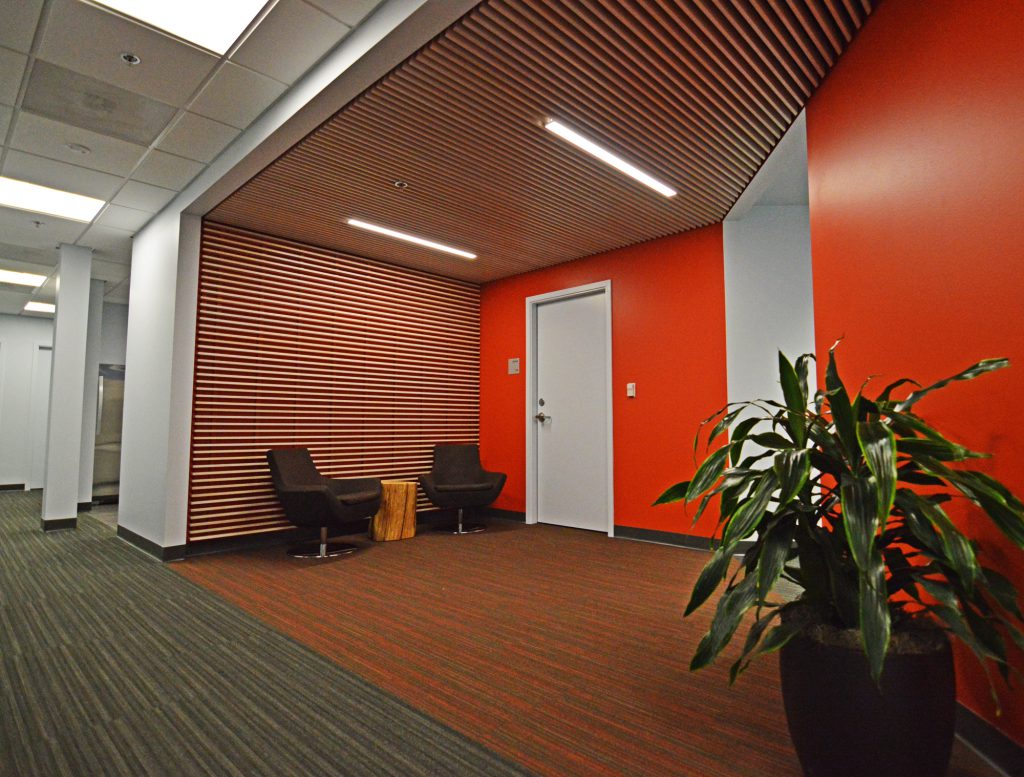 What are the best products for wood walls?
The reason that the low profile is better suited for a wall application is that there is less of a leverage point that could break off if they were too deep. When we are anchoring one of our panels to the wall system, 9Wood would require that those screws or fastening device be attached to a framing member or sheeting behind them, versus going directly into drywall.
How do you attach a custom wood wall?
There are really two main forms of attachment for custom wood walls. One way is through a fastener, typically with screws for a panelized system, such as a grille or a panelized linear, or a finish nail if we are doing a more progressive form of linear like a tongue and groove. So that's one form – using fasteners to attach a wood wall product to a wall system.
The other way we would attach wall panels to the wall surface itself is with a clip system, the most common being the monarch clip and rail or a panel clip system. The more accessible option would be the panel clip system where the panels can then be lifted off if for some reason you need to get behind the wall system. For the panelized systems that are screwed to the walls, those can also be removed and reattached a certain number of times, but we would not consider those repeated access.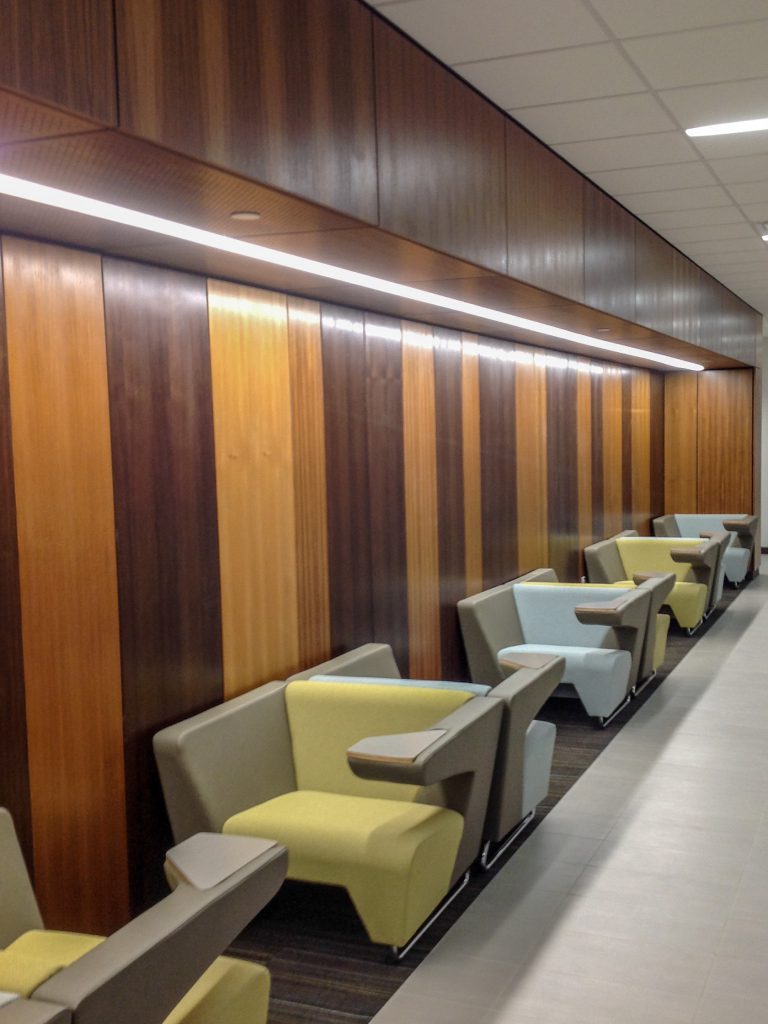 What are the finish options for custom wood walls?
Our finishes pretty much follow the same exact system our ceiling systems have. We have a wide variety of different standard color stains we can do. We can also color match for a specific project. On top of that, we offer a wide variety of clear and different topcoats as well, depending on the application: whether it needs a little bit more weather protection or it's just a standard application.
Check out: Wood Finishes – Take Your Project from Good to Gorgeous!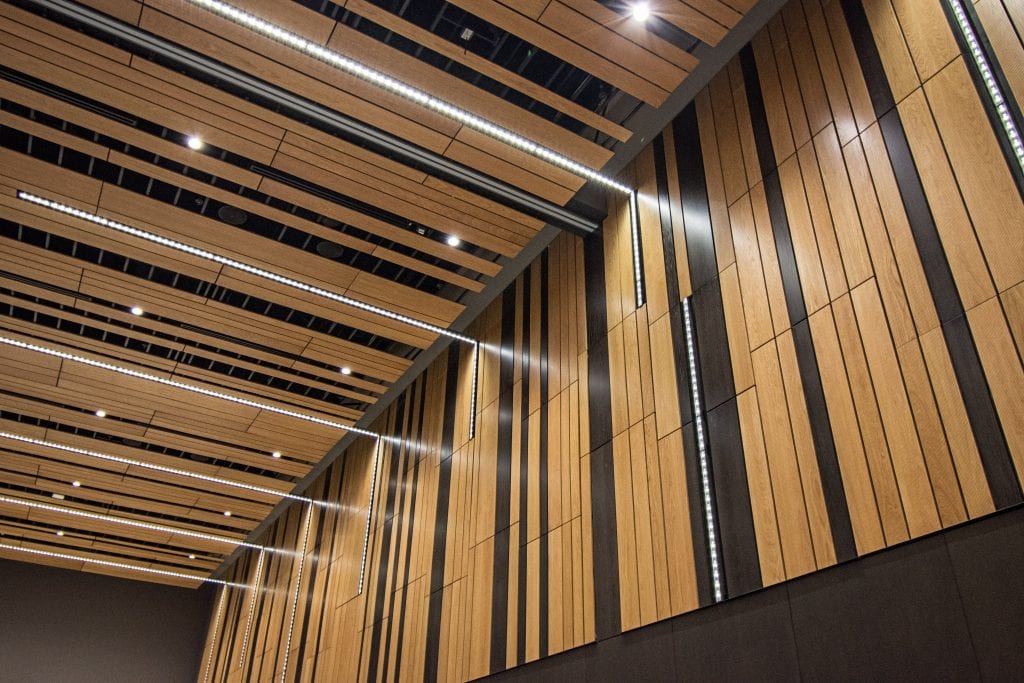 Can wood walls be matched to the ceiling?
We can certainly match the walls to the ceilings and not only that, but we can also match our wall systems to other millwork or woodwork in the building.
What about exterior wood walls?
For exterior walls, 9Wood does not recommend our walls for those applications simply based on exposure to the elements. Oftentimes those areas are going to get a lot of direct contact with wind-driven moisture. We would recommend going with a product that uses a penetrant type of finish that is typically done more by a millwork company.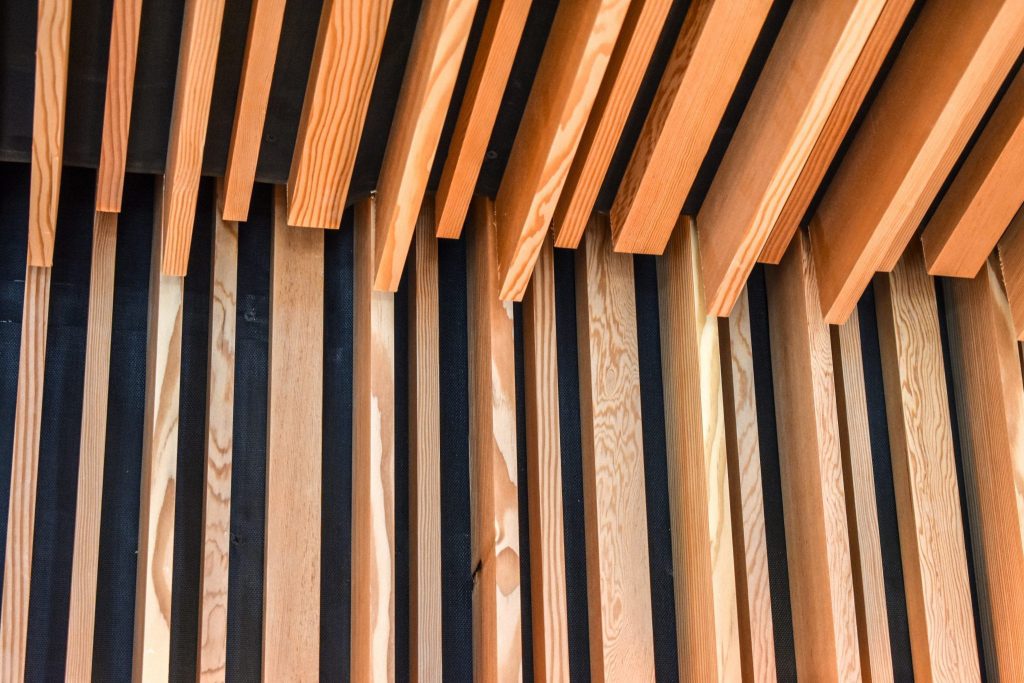 Wood walls: solid wood vs. veneer product
As far as solid wood versus veneer wood for walls, once again solid wood is going to provide a more robust product. If you need to use a veneer core product on a wall system, there are certain ways, even in high traffic areas, to help protect the wall system. One example would be making sure that the wall system is off the floor by 3"-4", which is kind of a toe-kick area. Another thing would be to use some kind of protective cap, such as metal trim or even solid wood trim in those corner conditions.
How much do custom wood walls cost?
For prices on wood wall systems, they generally follow the same pricing as our ceiling systems. For the square-footage pricing on grilles or linears, you're looking at anywhere between the low 20s to 40, and for the acoustic planks, tiles, and perfs, anywhere between the mid 20s to mid 40s per square foot.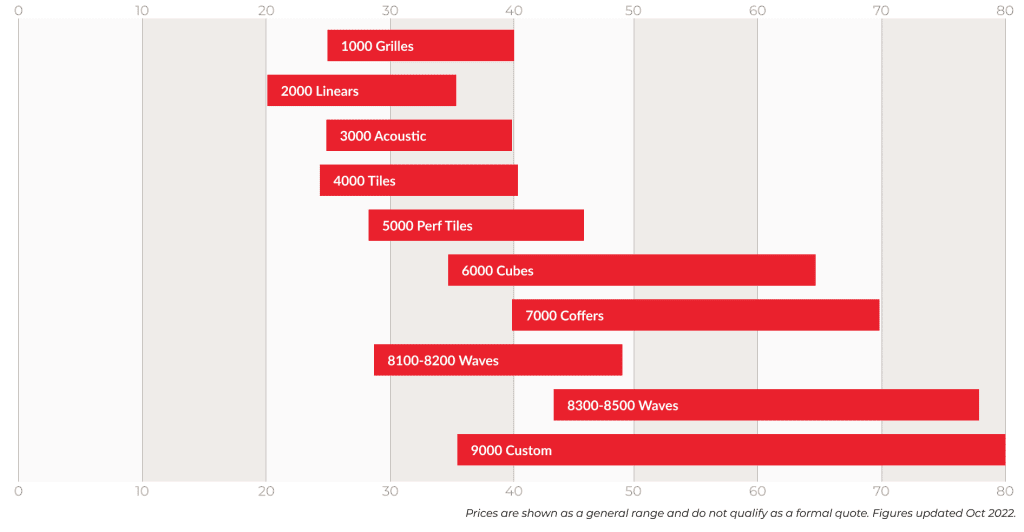 Conclusion
As Nathan discussed, walls are separate surfaces with their own unique considerations. We are here to help you, so if you are integrating a custom ceiling with a custom wood wall or considering a wall only, reach out to our team. They've got budgets, samples, images, and other things to help with your design intent.