1300 Lay-In Grille
Great looking, fully accessible from below, a natural choice when style and function are required.
The 9Wood Lay-in Grille style wood ceiling offers a design where the individual wood member is deeper than it is wide. The standard panel width is 24″. Standard panel lengths are 4′, 6′, 8′, or 10′ (nominal). In non-seismic zones this suspension system allows for productive installation and easy accessibility.
The Lay-in Grille uses a pre-assembled panel fabrication process. This product typically installs in non-seismic areas. In seismic zones it requires a safety-wire tie-off or lock-down screws. Panel access is by means of lift, shift, and remove.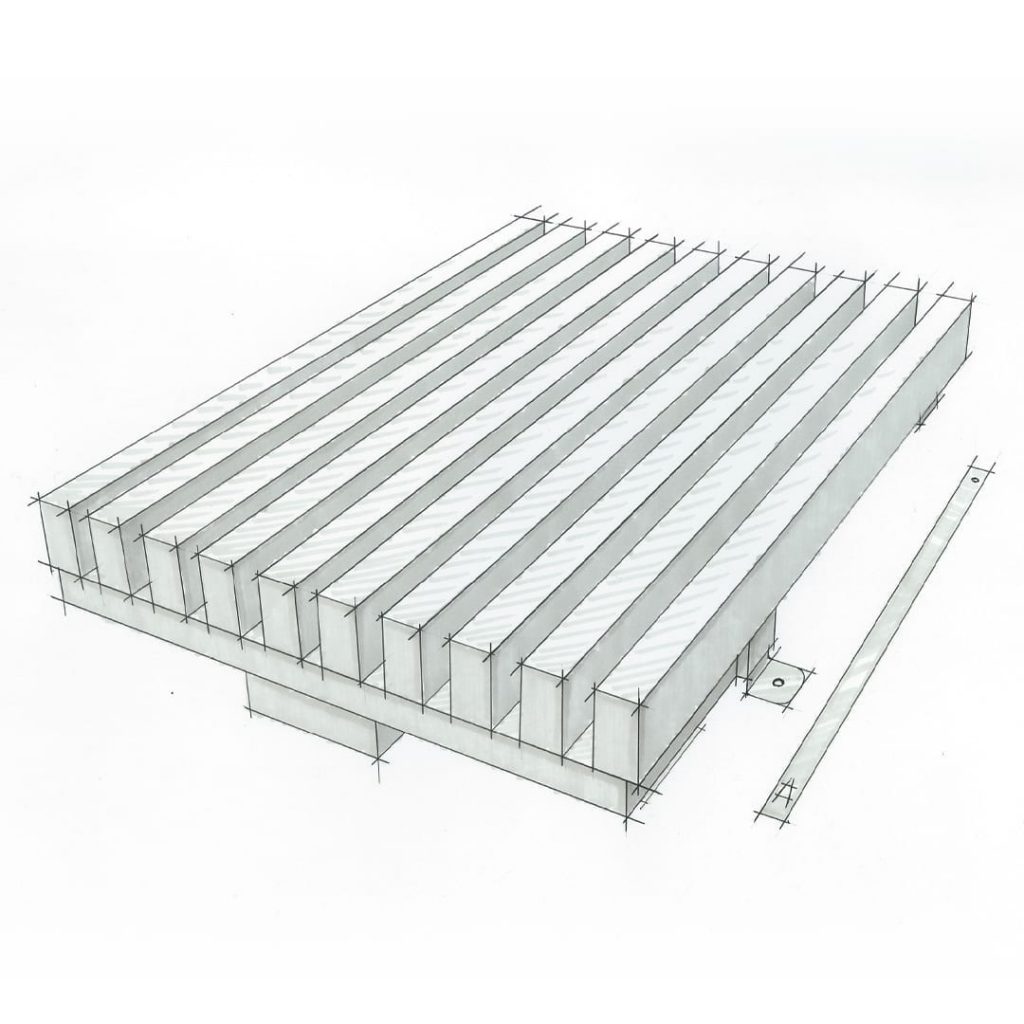 Acclimatization
Lay-In Grilles must be cared for in a controlled interior environment (RH 25%-55% max; temp. 60°-80°) and installed only after reaching equilibrium moisture content. Should the building fall outside these limits, consult 9Wood for our Wood Ceiling Acclimatization for Professionals handbook.
Acoustics
The Lay-In Grille can enhance acoustics via sound absorbing material placed over open reveals within the T-Bar grid. Insulation is typically provided locally.
Fire Rating
Individual members and components can be treated with Class I (A) Fire Retardant chemicals (solid wood use FR coatings, veneered particleboard use FR formulas). Particular species or styles have not been tested.
LEED
Lay-In Grilles may qualify toward MR-3, MR-4.1/4.2, MR-5.1/5.2, MR-6, MR-7, IEQ-4.2 or IEQ-4.4. As all products are custom-fabricated, LEED credit opportunities are project by project. Please contact 9Wood for specifics.
MEP
The Lay-In Grille permits MEP penetrations in the ceiling's surface. Cut panels may require supplemental reinforcement. Fixtures and diff users must be independently supported.
Seismic
Lay-In Style Wood Grille panels lay into standard T-Grid. They may require safety wire tie-off or screw lock to T-Bar. Please consult local code or a licensed engineer for any additional requirements.
Species & Finishes
9Wood offers both domestic and imported species for the Lay-In Grille. Clear, matte sheen finish is standard; custom stain matches are available. For additional information see our species article.
Suspension
Lay-In Grilles lift and shift into 15/16″ heavy duty T-Bar main runners. Main runners are typically 2′ on center.
System Weight
Lay-In Grilles typically weigh 2-4 pounds per square foot, depending on members per linear foot and species.
Projects Featuring this System