2800 True Access Linear
The most accessible wood slat ceiling available. Ready for seismic compliance and accessible at every panel without tools or fasteners. 
The 2800 True Access Linear combines a panelized linear design with the function of a fully accessible system. Every panel is accessible across the span of the surface without the use of tools or fasteners. Alignment is maintained after every return with clips gliding wood linear panels back into place. This means your ceiling won't get bent out of shape over time and throughways remain unnoticed to occupants.  
The True Access Linears can either be solid wood or veneer with fire-rated core. Individual members can vary in size and width and custom color and/or specie combinations are encouraged. Hardware configuration eases installation tolerances, making it easier for contractors to get it right the first time. Panel width is typically 24" and True Access Linears are ready to be engineered for seismic compliance.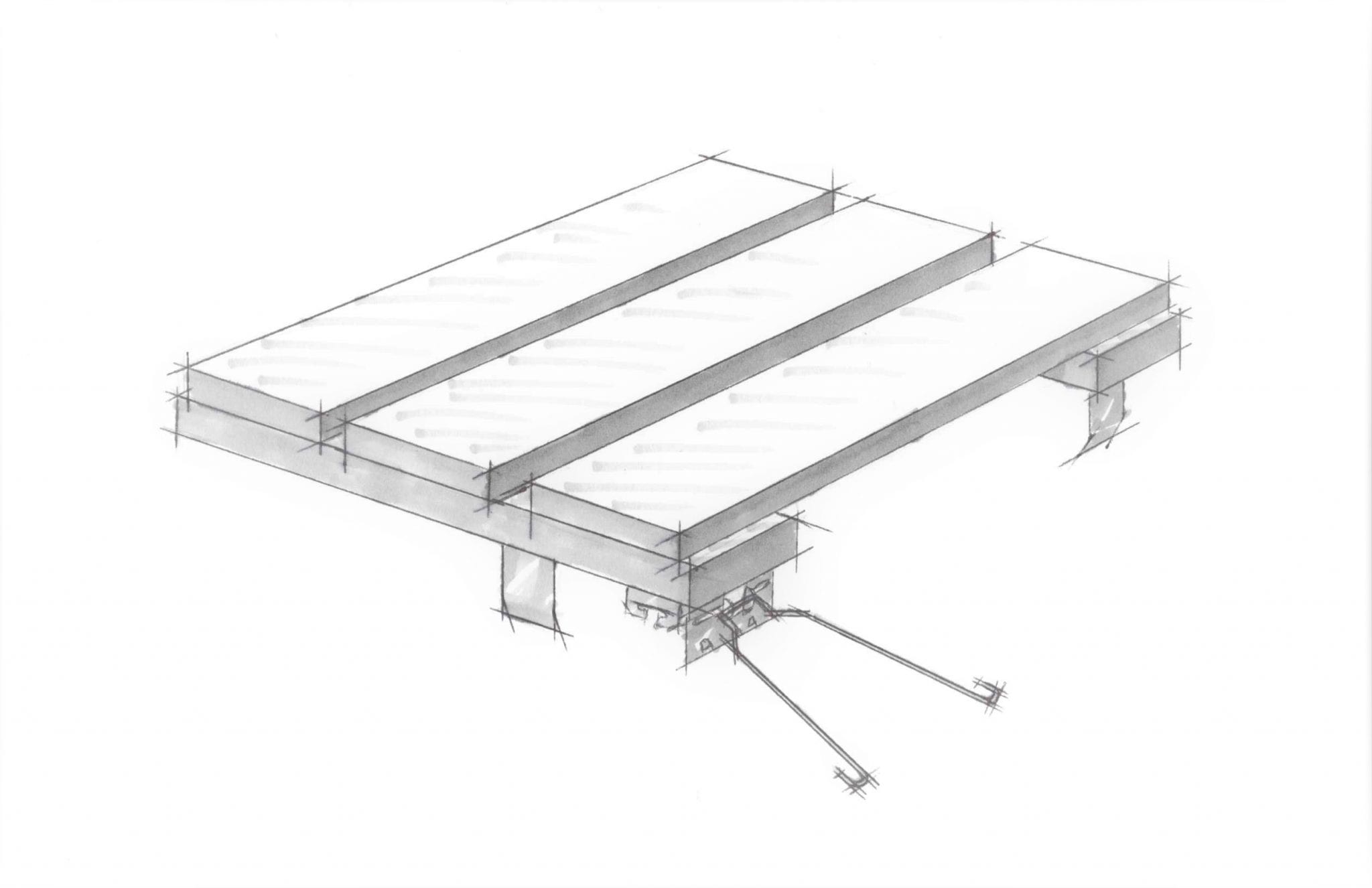 Acclimatization
True Access Grilles must be cared for in a controlled interior environment (RH 25%-55% max; temp. 60°-80°) and in- stalled only after reaching equilibrium moisture content. Should the building fall outside these limits consult 9Wood, Inc. for our 3 Tests/3 Tracks Acclimatization Advisory.
Acoustics
The True Access Grille can enhance acoustics via soundab- sorbing material placed over open reveals within the T-Bar grid. Insulation is typically provided locally.
Fire Rating
Individual members and components can be treated with Class I (A) Fire Retardant chemicals (solid wood use FR coatings, veneered particleboard use FR formulas). Particu- lar species or styles have not been tested.
LEED
True Access Grilles may qualify toward MR-3, MR-4.1/4.2, MR-5.1/5.2, MR-6, MR-7, IEQ-4.2 or IEQ-4.4. As all products are custom-fabricated, LEED credit opportunities are project by project. Please contact 9Wood, Inc. for specifics.
MEP
The True Access Linear permits MEP penetrations in the ceiling's surface. Cut panels may require supplemental reinforcement. Fixtures and diffusers must be independently supported.
Seismic
True Access Grilles can be engineered to meet seismic requirements. Consult local code for any additional requirements or a licensed local engineer.
Suspension
True Access Grilles are suspended using 15/16" heavy duty T-bar main runners. Main runners are installed 2' on center, depending on panel weight.
System Weight
True Access Grilles typically weigh 2-4 pounds per square foot, depending on members per linear foot and species.