5300 Diamond Perf Tile
The diagonal pattern of Diamond Perf Tile adds a bold choice to 9Wood's perforated tile options.
The 9Wood Diamond Perforated Pattern style wood ceiling tiles offer a perforated tiled appearance with a diamond (or 60°) perforation pattern with a non-perforated border. The 5300 style Diamond Perforated Pattern is installed using any of the 4000 series Wood Tile suspension methods.
The Diamond Perforated Pattern permits acoustic attenuation. Accessibility is determined by attachment method.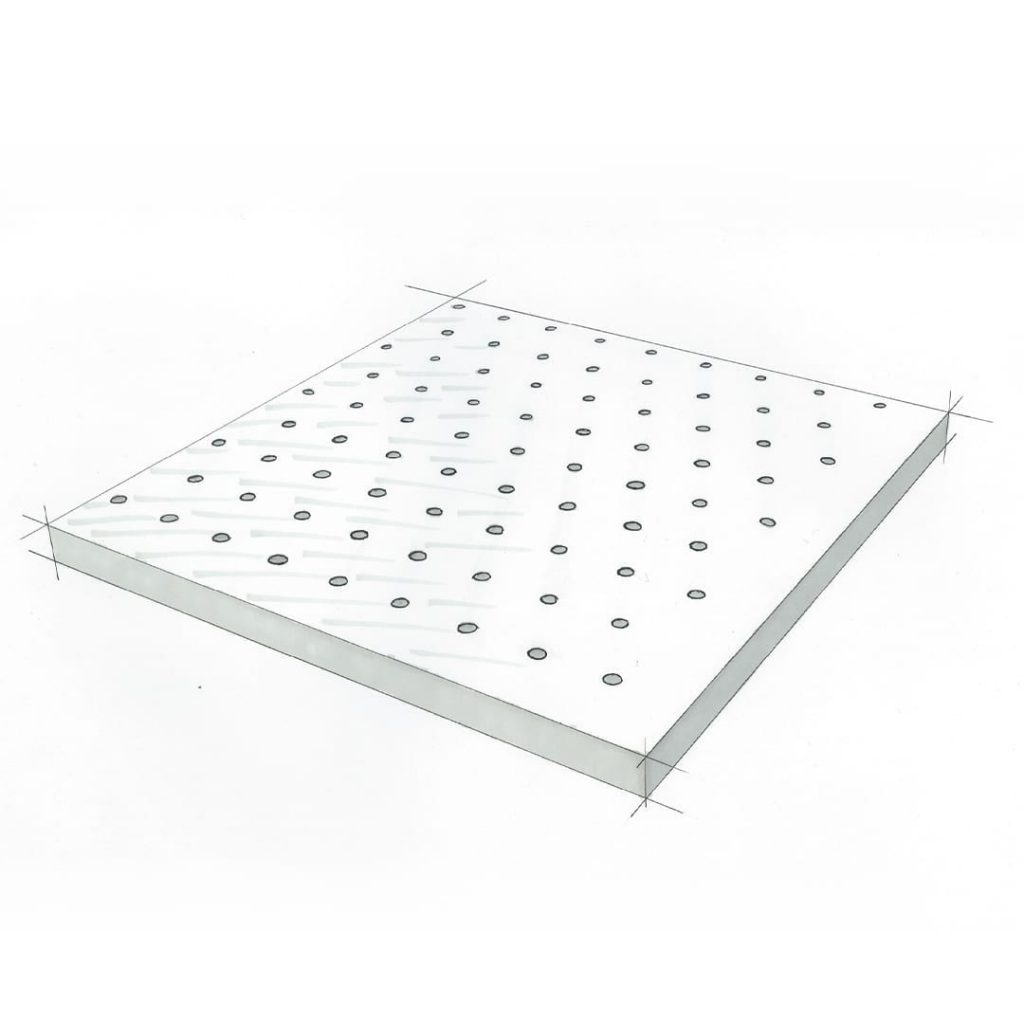 Acclimatization
Diamond Perf Tiles must be cared for in a controlled interior environment (RH 25%-55% max; temp. 60°-80°) and installed only after reaching equilibrium moisture content. Should the building fall outside these limits, consult 9Wood for our Wood Ceiling Acclimatization for Professionals handbook.
Acoustics
The Diamond Perf Tile enhances acoustics with Sound-Tex™ acoustic scrim, factory-attached to the back side. For added sound attenuation, extra fiberglass absorptive material can be placed within the T-Bar grid. Insulation is typically provided locally.
Fire Rating
Individual members and components can be treated with Class I (A) Fire Retardant chemicals (solid wood use FR coatings, veneered particleboard use FR formulas). Particular species or styles have not been tested.
LEED
Diamond Perf Tiles may qualify toward MR-3, MR-4.1/4.2, MR-5.1/5.2, MR-6, MR-7, IEQ-4.2 or IEQ-4.4. As all products are custom-fabricated, LEED credit opportunities are project by project. Please contact 9Wood for specifics.
MEP
The Diamond Perf Tile permits MEP penetrations in the ceiling's surface. Cut panels may require supplemental reinforcement. Fixtures and diffusers must be independently supported.
Seismic
Diamond Perf Tiles may require a safety wire tie-off or screw-locks to T-Bar. Please consult local code or a licensed engineer for any additional requirements.
Species & Finishes
9Wood offers both domestic and imported species for the Diamond Perf Tile. Clear, matte sheen finish is standard; custom stain matches are available. For additional information see our species article.
Suspension
Diamond Perf Tiles are suspended from 15/16″ heavy duty T-Bar main runners. Main runners are typically 2′ on center.
System Weight
Diamond Perf Tiles typically weigh 3 pounds per square foot or less.
Projects Featuring this System