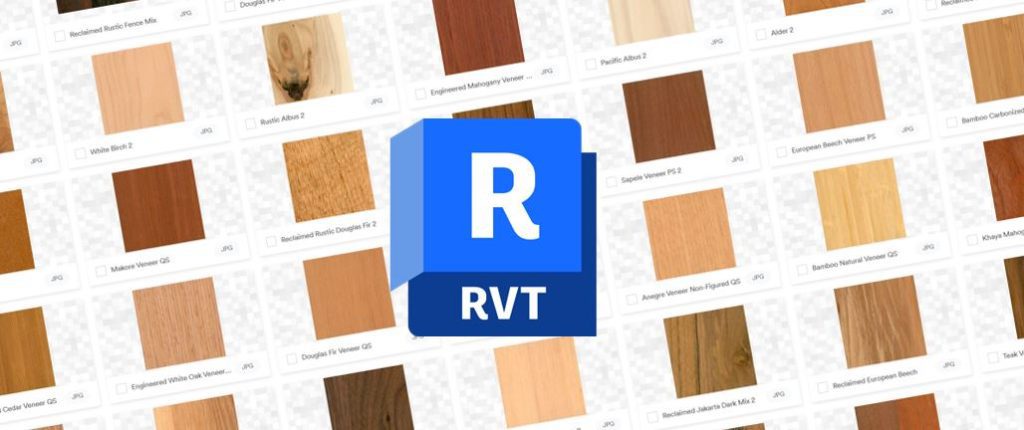 This week 9Wood published 450 Revit models of our most popular wood ceiling products. Manufacturing custom fast wood ceilings means design freedom for architects and designers, with resources like Revit delivered promptly.
Links to download these models can be found at the bottom of this page and on the respective Product pages.
We asked our Revit modeler, Davis Kyser to answer a few technical questions you may have about this release. Davis shares his contact information for any follow up questions you may have, which can be found in the description of any material packs or high-res species packs available in the share links for the models.
---
How did 9Wood choose which products to make models for first?
We started with our most popular product styles: linears wood, grille styles, the new hybrid styles, and True Access.
What version of Revit did we use for these models?
We created our Revit models using Revit 2020 because that is what a majority of users use. While there are users on Revit 2023, 2020 makes it readily available no matter what platform you're using.
Helpful Link: How To Find Out What Version Of Revit File Is, Without Opening Revit Software
Are there any guidelines that you would suggest for architects and designers when using these wood ceiling models?
Start with the 9Wood SKU you're interested in. Next, determine the specie of wood and whether it is a soft wood, hard wood, or veneer application. These three product types have different cost-effective module sizes and dimensions. We recommend talking with either your sales rep or 9Wood Design Assist Specialists about what product you need to import. Then you can narrow down the SKU to find the corresponding model before importing. That way you're not busy opening 25 files, you're just opening that one SKU that you're looking at incorporating into your overall model.
The share links for these models also include 9Wood Material Packs and High-res Species Packs. Can you explain more about those and how they should be used?
We wanted to include the full range of wood species for architects and designers. Revit allows designers to render their models with the specified materials they want to see. They can either use the standard 9Wood Material Pack or explore the high-res Soft Wood, Hard Wood, or Veneer pack. Select the basic properties menu then select the material to change how it renders.

Do these Revit models work with competitor products as well?
Yes. Using the 9Wood Revit models should allow designers to render what they came here for – their wood ceiling design. A 9Wood sales rep can always help you identify which 9Wood product matches a competitor's wood ceiling product.
If an architect or designer requests a specific product or SKU that is not yet included, is 9Wood able to create that for them?
Yes! We have cut sheets from all our AutoCAD files from which we can create a custom Revit model with a turn around in less than a week typically.
What kind of feedback are we hoping to hear from these Revit models from 9Wood?
We want to know which parameters architects and designers desire when integrating a Revit model into their systems. Would they prefer to use their own material files, or if our species packs are helpful. In addition, we'd like to know which user interface settings helps the most, such as scrim or wood finishes.
If an architect or designer encounters issues using these Revit files, what would you recommend they do?
Contact 9Wood. Please reach out to us if you're encountering any issues with these models.
Is there anything you would like to add?
We're excited to introduce these models and feedback is much appreciated.
---
9Wood's strategy is to offer Custom Fast wood ceilings. This means empowering architects and designers to draw on a wide range of standard design choices to design a truly unique wood ceiling — shipped in as little as 3 weeks. Custom Fast is the freedom to create a true signature design, with custom stain matches, full service design assist all along the way, and custom shop drawings and samples for approval, all without the hard limits of a Quickship off-the-shelf program. Design Freedom, Delivered Fast.






P.S. We do have to thank one of our top sales reps who recently visited our production facility. It was with their kind nudge that gave us the confidence to release these files into the wild.