We firmly believe that customers can have both the custom wood ceilings and fast lead times.

— Thomas Nelson, Marketing Manager
We are in the Speed Business
At 9Wood, we take pride in being the leading manufacturer of custom wood ceilings and walls in North America. We recently had the opportunity to sit down with Beth PopNikolov from Venveo on their Smarter Building Materials Marketing podcast, where our Operations Manager, Craig Jolly, and Marketing Manager, Thomas Nelson, shed light on the Fast>Track program.

Venveo reached out to us a few months ago about being featured on an upcoming episode for their Smarter Building Materials Marketing podcast. Of course, we were flattered and we gladly accepted. We were flattered by many compliments all the way through the process, but after the recorded interview led by Beth PopNikolov we realized how fortunate we were for the opportunity.
You see, Venveo is one of the best. Venveo is best known for turning building material manufacturer's online presence into their best salesperson through smarter marketing. To be asked to contribute to their audiences is a huge compliment and a great honor for a niche wood ceiling manufacturer like us. The Smarter Building Materials Marketing podcast helps industry professionals find better ways to grow leads, sales and outperform the competition. It's designed to give insights on how to create a results-driven digital marketing strategy for companies of any size.
Going through the process brought us insights too. Of the things we learned is that we are in the speed business. At one point, Beth flat our said that 9Wood has revolutionized the custom building product manufacturing industry with our focus on speed and reliability.
A big thank you to Venveo. Happy listening!
---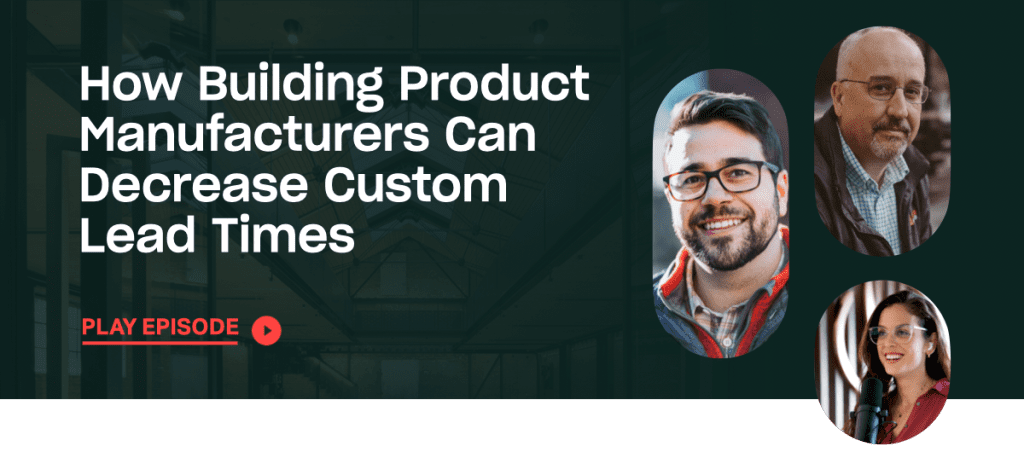 Intro: About 9Wood
Founded in 2004, 9Wood has consistently prioritized reliability as our distinguishing factor. We believed that delivering design intent accurately and on time would set us apart. While we successfully established our reputation for reliability over a decade, we realized that we needed an additional edge to truly stand out. This realization led us to introduce our game-changing Fast>Track program in 2015, where speed became the critical factor.
What about the Sales Process?
One of the key challenges in the sales process for custom products is managing schedules. Thomas emphasizes the importance of tailoring the entire customer journey to align with their schedule. By understanding the customer's timeline, 9Wood can ensure a smooth and reliable experience. We recognize that we our customers work in finishes and without fail, their work falls to the end of the project schedule. Being at the mercy of all other trades upstream, they require both speed and reliability in order to stand apart from their competitors. This is precisely where Fast>Track shines.
By delivering custom materials in just 3 weeks instead of the traditional 12-16 weeks, Fast>Track not only acts as schedule insurance but also serves as an expedited solution when customers need it most. Our approach starts with customers specific schedule requirements and timeline, rather than immediately diving into species and designs.
We firmly believe in empowering the customer as the hero of their own story, and we tailor our offerings accordingly. This customer-centric approach ensures that their desired design is not compromised, and they can still enjoy superior lead times.
How did Fast>Track come to be?
Our journey toward reducing lead times began when Craig proactively sought feedback from our sales representatives. Speed emerged as a resounding need from our customers, and we realized we had to act swiftly. At that time, our lead times averaged 8 to 12 weeks or more, limiting our sales potential. To address this challenge, we meticulously evaluated our products and streamlined options while preserving design freedom. This approach enables architects and designers to create highly customized wood ceilings without sacrificing lead times. We firmly believe that customers can have both the custom wood ceilings and fast lead times.
While we have successfully introduced Fast>Track, we continue to explore opportunities to expand the portfolio without diminishing our reputation. Our goal is to offer our customers a faster route to custom products, thereby expanding the overall wood ceiling market.
Reaching Designers through Transparency
We are committed to delivering complete transparency in our marketing efforts. We actively encourage customers to engage with the content we have published, to quickly get budget quotes or learn about LEED and sustainability from the 9Wood Learning Center. Even during challenging times like the recent pandemic, we've proactively shared supply chain disruptions with our customers and offering guidance without overshadowing their role as the hero of their projects. This StoryBrand type of marketing aligns with Venveo's approach and resonates with our customers.
To better reach architects and designers, Thomas recommends a three-steps.
Firstly, focus on delivering on your promises consistently to build a foundation of reliability.
Second, prioritize speed in all ways that impact the customer experience.
Finally, institutionalize this direction by measuring relevant aspect of your operations, from samples, to shop drawings, design assist to returning phone calls – it all counts.
As we expand beyond our niche segment, we acknowledge the risk of being categorized as a Quick Ship provider. However, we are determined to establish Fast>Track as a distinct category, differentiating it from off-the-shelf solutions. We want to emphasize that Fast>Track offers fully customized products that are more accessible to the market both in availability and in speed.
Craig emphasizes the importance of adopting a demand-driven operating model. Positioning inventory strategically within the supply chain allows us to provide both speed and flexibility. By protecting against natural manufacturing variability and implementing a pull-based approach, we ensure that products are created only when a clear contract with the customer is in place. This customer-centric model enhances our ability to deliver within the customers' desired schedule.
Conclusion
In conclusion, and as a shameless plug for 9Wood, our commitment to speed, reliability, and customer-centricity sets us apart from the rest. We invite manufacturers and contractors alike to embrace a mindset of putting customers' needs first and to focus on providing the necessary support throughout the approval and fabrication processes. By examining your operating model, collaborating with supply chain partners, and staying attentive to customer inquiries, you can achieve remarkable transformations in speed, customer service, and overall success.
To delve deeper into the topic of expedited timelines and expanding your market reach, we encourage you to listen to the complete episode of the podcast here. At 9Wood, we remain dedicated to pioneering smarter solutions and elevating the standard of custom wood ceiling manufacturing. We are propeller heads after all.