The cost of build materials is skyrocketing.
Losing wood ceiling jobs on price is painful. Stay competitive with the Hemlock Advantage.
Get a quote from 9Wood.
---
How to Stay Competitive With Wood Ceilings
The easiest way to land your next job is to be lower in price than your competition. Don't get me wrong: Reliability, speed, and past performance are critical. But so are value and the bottom line. After you account for labor and uncertainty, not much room is left to reduce your bid outside of the material quotes from your suppliers. Unfortunately, building material costs are skyrocketing.
Why are Lumber Material Costs Rising?
The sharp rise in construction material prices is catching everyone's attention, especially the dramatic increase in lumber prices. Building materials are in great demand, and some supply chains are struggling.
At the beginning of the COVID-19 pandemic, wood producers and distributors cut back on production and started cutting inventories. As 2020 progressed, demand for common building materials skyrocketed as more people turned to DIY, and construction starts in key markets rapidly rebounded. A recent WSJ article reports on How the Pandemic Made Lumber America's Hottest Commodity. Now, in some areas, the price of a 2×4 at your local box store has increased upward of 350%, and despite the rising prices, demand is still soaring! According to the American Wood Council, wood product manufacturers are producing at the highest volume since 2007.
What Does This Have to Do With Hemlock?
Premium clear hemlock is ideal for wood ceilings. Advances in finishing technology have allowed 9Wood to stain hemlock to nearly any natural wood tone. And because western hemlock is in abundant supply here in the Pacific Northwest, hemlock remains 9Wood's most economical species. This will not change.
Many of our customers rely on hemlock and for good reason: the cost.
**The Hemlock Advantage: 3 Reasons Hemlock is Ideal for Wood Ceilings Right Now**
Hemlock prices are stable compared with other solid woods. This price stability is due to recent changes in US tariffs with Canada. Although market demand has driven up all wood prices, this reduced tariff has partially offset those increases for hemlock. Tariffs are down from 21% to 9%.
Hemlock is available. 9Wood's hemlock is sourced in certified well-managed forests located in nearby British Columbia. Hardwoods such as poplar, maple, ash, and oak are currently seeing supply-chain problems disrupting the availability of their premium grades which are needed for wood ceilings. We have not encountered any disruptions in the supply of our PEFC-certified hemlock (Programme for the Endorsement of Forest Certification). We do not anticipate any.
Hemlock is versatile and fast. Our stain technology allows us to match a broad palette of warm and rich tones.
Hemlock is also great for opaque colors such as fully white baffles or grilles. In addition, vertical grain hemlock is suitable for exterior protected soffit applications.
Hemlock is widely available through our Fast>Track program which boasts 3-week lead times if your schedule is tight. And it comes with the industry's only on-time guarantee. If you choose the Hemlock Advantage, you are going to be more competitive with your bids. The Hemlock Advantage is available to anyone who installs commercial wood ceilings.
Can You Substitute for Western Hemlock?
Solid Western Hemlock is primarily used in wood grilles and linear wood products, usually in interior environments. Hemlock is also suitable for exterior soffit applications. Ceiling tiles and specialty tile products almost always require veneers, so they do not typically use hemlock.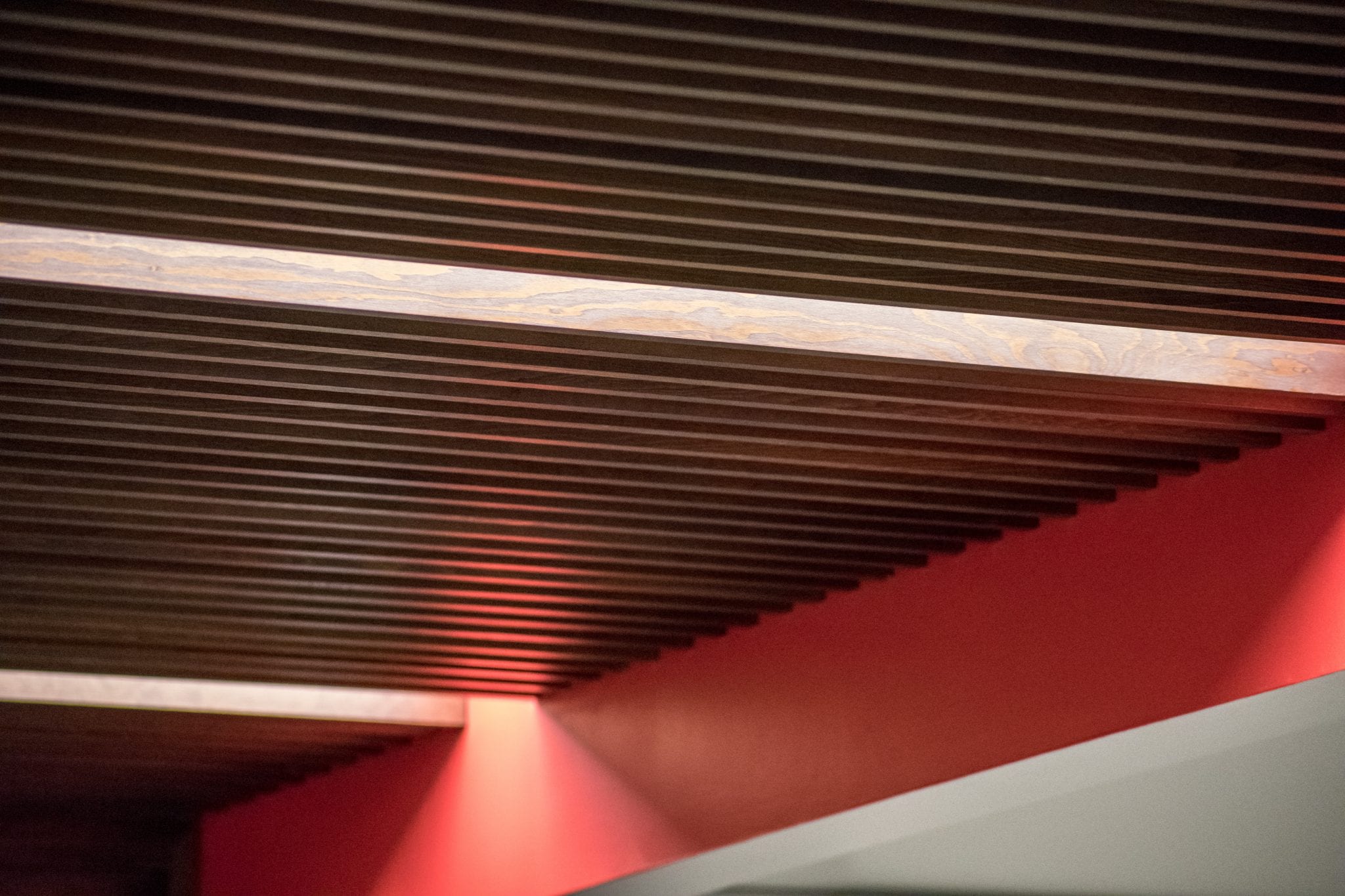 If you are bidding on a job with a wood ceiling, check to see if hemlock is a possible substitute species. With our cost-effective stains, we can usually match the color and tone of most hardwood species, such as oak, cherry, and maple. The Hemlock Advantage might just give you the edge over your competition to land the job.
**More: Options and Species for Wood Ceilings [VIDEO]**
What About Other Wood Ceiling Manufacturers?
We buy wood every day and specialize in hemlock because it is local to the Pacific Northwest. Our competitors, such as Rulon, Armstrong, and ASI, can supply some species more economically, but not hemlock. There are no two ways about it: Our competitors' prices will be affected by the rise in lumber prices. Ours likely will too, especially for species like natural maple!
Since we are in the Pacific Northwest, we have strong supply-chain connections that are difficult for anyone else in the industry to match. According to Becky Taylor, our own supply chain expert, the rest of the industry "… is not able to match our raw goods pricing for the same quality of fiber."
Our supply chain team also reports that poplar, ash, and natural maple are up 30% in price over the last six months, with maple expected to climb another 30% within months. Hemlock, on the other hand, is only up about 10%. This increase is largely offset by the US tariff reversal and the ample supply.
With the price stability of hemlock, subcontractors can rest easy knowing they are protected from price jumps when they are awarded the job.
Get Quotes Faster From 9Wood
We are getting faster at generating quotes for our customers. We typically generate quotes in 48 hours, but complex jobs may require a few additional days. We know we can do better. We know subcontractors must hustle to quote a job. In the months to come, 9Wood is committed to dramatically reducing the turnaround time to get a quote. Our goal is to turn around quotes within a day.
For now, please do not hesitate to ask for a fast turnaround if you are on a time crunch. We can hustle too.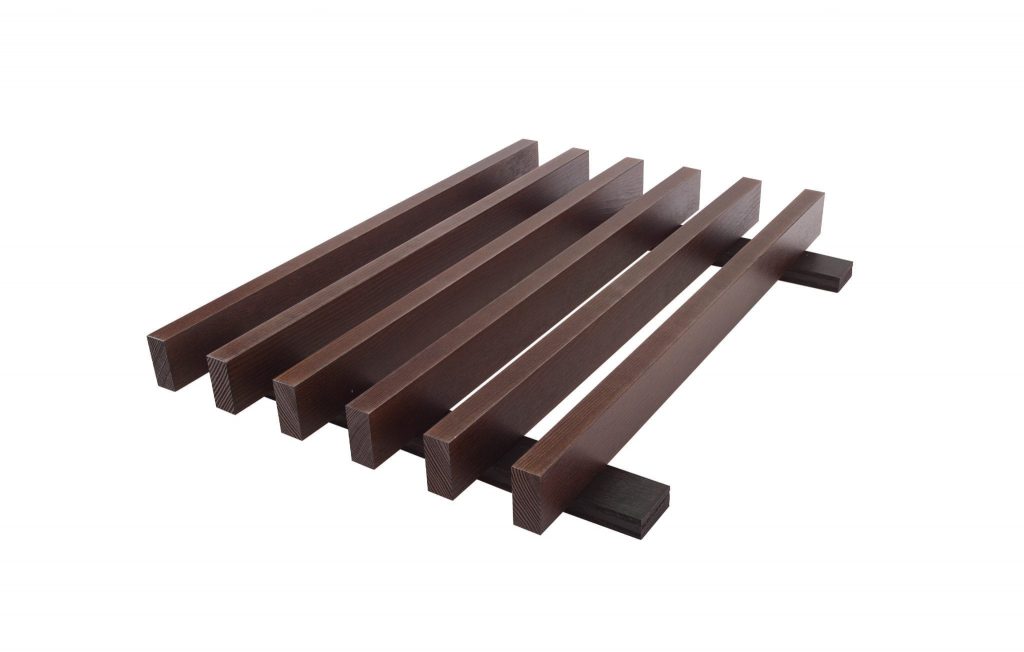 Get a quote from 9Wood on your next wood ceiling today. Substituting or going with hemlock might just land you your next wood ceiling job.